Bourbon Bacon Grilled Baked Beans are smokey brown sugar sweetened, tender beans that are full of crispy bacon and caramelized onions and laced with a hint if your favorite bourbon. This tricked out, semi-homemade barbecue staple comes together quickly and easily and is simmered to thick, bubbly, flavor-packed perfection on the grill.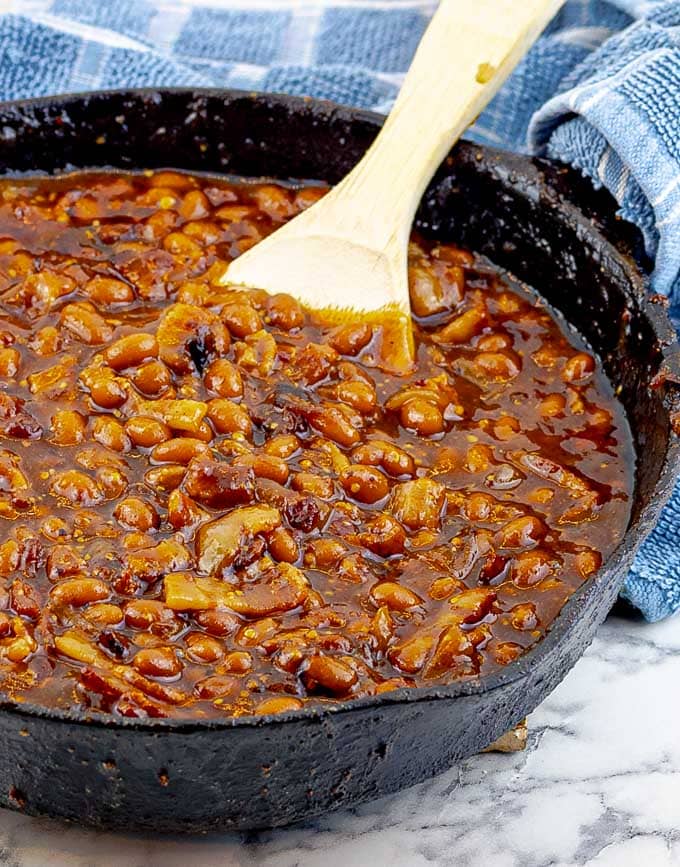 These Bourbon Bacon Baked Beans are cooked on the Barbecue Grill! Say what? You heard me right, folks. What I want to know is why in all of my bean-eating years I have never thought to do this before?!?!
I'm a huge fan of the backyard patio and grill time. Frosty cold beer, delicious smells making all the neighbors jealous, flip-flops, music, kids (waaaaayyyy off in the distance) playing in the backyard. THIS is summer to me in a nutshell. And If I can make the entire meal on the grill, that is even more satisfying, and I do it often!
Sticky Asian Chicken Thighs, Grilled Asparagus, Teriyaki Kabobs, and my Triple Berry Crisp are regular attendees to patio nights.
Baked Beans have a lengthy heritage dating back from the Native Americans and early colonists. Traditionally, Baked Beans were parboiled and then stewed in a sauce for a long period of time. Molasses and salt pork were common add-ins, and often the beans were left on the back of the hearth overnight.
Those are the flavors and characteristics that make a fabulous pot of beans in my opinion. Thick, slightly sweet, the salty, smokey bacon….Yes, please!
That being said, sometimes the semi-homemade version is easier for a weeknight grill-fest then the full-on, 4 hour event that is 100% from scratch.
How to make Bourbon Bacon Grilled Baked Beans
This recipe uses a pre-made can of baked beans as a base for the recipe. I prefer Bush's beans, and I've used many others, but Bush's quality is just better in my opinion. Any brand will do, however.
In a 9 or 10″ cast iron skillet, cook sliced bacon and diced onion until the bacon crisps and the onion begins to brown.
Add bourbon, brown sugar, barbecue sauce, mustard, Worcestershire sauce, and a handful of other pantry staple spices.
Simmer the beans on a covered grill using indirect heat for about half of an hour. When the beans have thickened and bubbled to the desired consistency, they are done.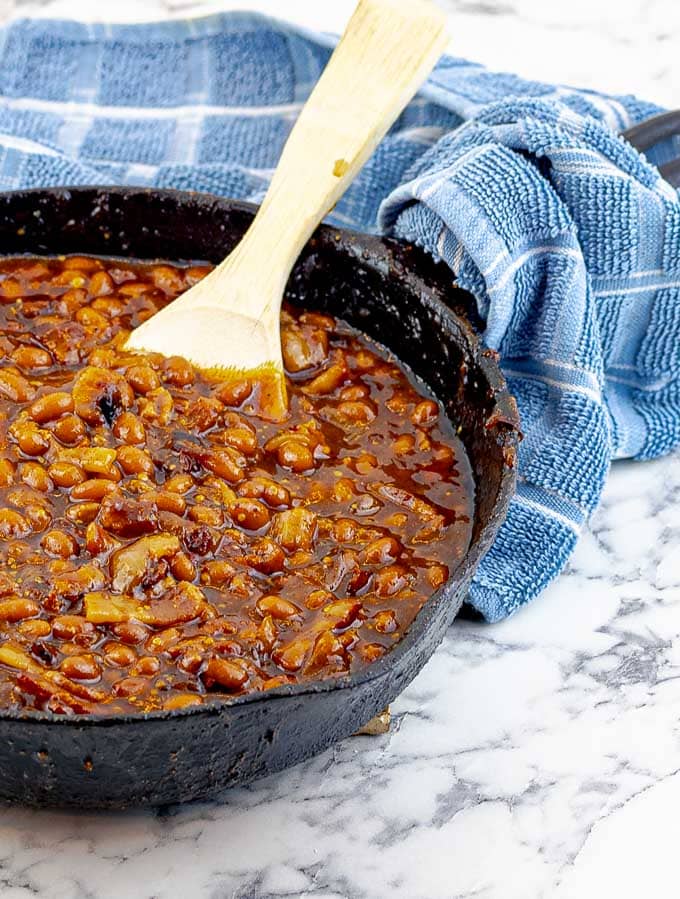 Try a few of my other favorite GRILLED recipes:
If you've tried my Bourbon Bacon Grilled Baked Beans or any other recipe on this website, please don't forget to rate the recipe and let me know how it came out in the comments below. I'd LOVE to hear from you!
Share a photo of your creation on my Facebook page, Instagram or save it to Pinterest and tag #SAVORWITHJENNIFER. I can't wait to see your work!
Pin this now to save for later!
Bourbon Bacon Grilled Baked Beans
Ingredients
1/2

pound

bacon, cut into 1/2" strips

1

cup

onion, diced

16.5

ounce

can baked beans, any brand or flavor

1/4

cup

barbecue sauce

1/4

cup

bourbon

1/4

cup

brown sugar

2

tablespoons

prepared mustard

1

tablespoon

worcestershire sauce

1/2

teaspoon

kosher salt

1/2

teaspoon

garlic powder

1/2

teaspoon

black pepper

1/2

teaspoon

cumin

1/2

teaspoon

chili powder (chipotle or ancho preferred)

1/8

teaspoon

crushed red pepper flakes

1/2 – 1/4 teaspoon crushed red pepper flakes optional
Instructions
Preheat the grill to a medium-low to medium heat, 300 – 350 degrees.

In a 9 or 10" cast iron skillet, add the bacon and onion.

Cook over direct heat until the bacon begins to crisp and the onion to caramelize and brown.

Move the skillet off of the flame and add the can of baked beans and all of the other remaining ingredients. Stir until everything is well combined.

Close the lid on the grill while leaving the skillet on indirect heat (not over the flame).

Stirring occaisonally, continue to cook on indirect heat for about 30 minutes, until the beans have become bubbly and thickened to the desired consistency.
Notes
Cook time can vary depending on grill size, temperature, and the amount of time the lid is open.
A 9×9″ or 10×10″ metal baking pan or large sauce pan can be used in place of the cast iron skillet.
Stovetop/Oven Directions:
Crisp the bacon and brown the onion on medium heat on the stovetop. Add the beans and remaining ingredients and place in a pre-heated 350 degree oven for 30 minutes, stirring occasionally until bubbly and thickened to the desired consistency.
Nutrition
Calories:
339
kcal
|
Carbohydrates:
35
g
|
Protein:
10
g
|
Fat:
17
g
|
Saturated Fat:
6
g
|
Polyunsaturated Fat:
3
g
|
Monounsaturated Fat:
7
g
|
Trans Fat:
1
g
|
Cholesterol:
30
mg
|
Sodium:
981
mg
|
Potassium:
448
mg
|
Fiber:
5
g
|
Sugar:
15
g
|
Vitamin A:
99
IU
|
Vitamin C:
4
mg
|
Calcium:
71
mg
|
Iron:
2
mg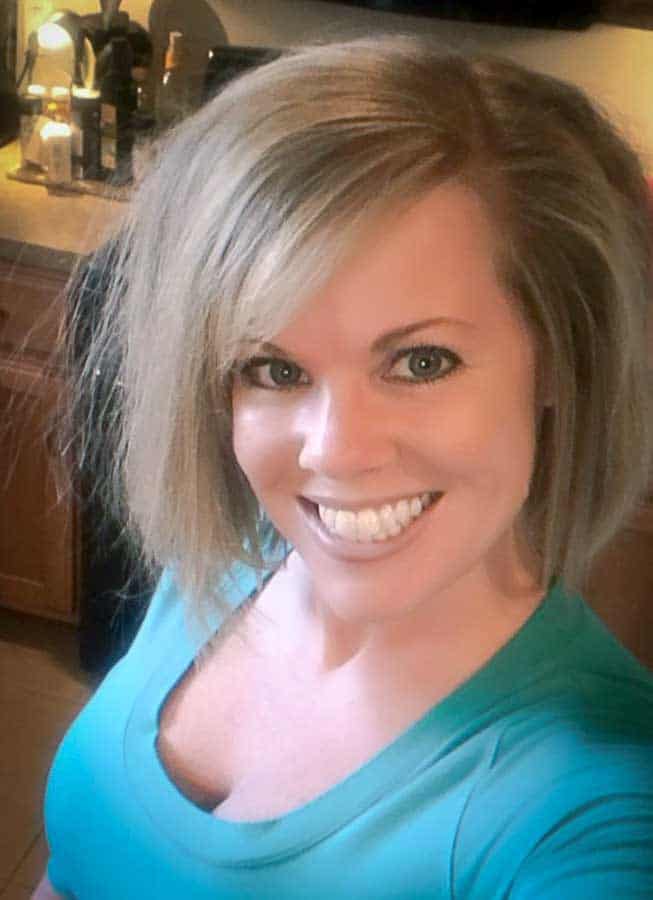 Mother, Gardener, Book Devourer, and Food Obsessor. I love being inspired with fresh, seasonal ingredients and relish every opportunity to elevate my home cooking. Join me!