Thai Chicken Satay Skewers are incredibly flavorful and delicious.
Marinated in coconut milk and curry, grilled chicken tenders are juicy and tender and so easy to make. Served with a subtle Peanut Dipping Sauce and a side of bright and refreshing Pickled Cucumber Salad, it's the perfect medley of flavor and texture.
Thai Chicken Satay Skewers are a great appetizer for you next get together when you are looking for the perfect finger food a little outside the box. It's also the perfect starter on Asian night, or a scrumptious, light lunch or dinner.

What is Chicken Satay?
Satay is a dish of seasoned, skewered and grilled meat, served with a sauce. It may have originated in Indonesia, but it is also popular in Malaysia, Singapore, and Thailand.
It's a common street food, frequently at fairs and markets, and is probably the most common appetizer at Thai restaurants. In fact, I can thank my Father's adventurous food pallet while I was growing up, as to why I was introduced to Chicken Satay as a child.
How to make Thai Chicken Satay Skewers
Whisk together half of a can of coconut milk, minced garlic, curry paste, brown sugar, salt, and pepper in a mixing bowl. Add the chicken tenders and marinate for at least 2 hours and up to 24 hours in the refrigerator. The longer the chicken is marinated, the more flavorful it will be. The chicken can be marinated in the bowl you used to make the marinade or a gallon size ziplok bag.
What is curry paste?
Curry paste is a mixture of chilies, lemongrass, garlic, lime juice, ginger, onion, and other spices. It has more ingredients then curry powder, so I do not use them interchangeably. It can be homemade. Minimalist Baker has a great recipe for it, but the ingredients are a little harder to source and might require an Asian market.
What is coconut milk and which one do I choose?
Coconut milk is basically pureed coconut mixed with water. Unsweetened coconut milk will only have coconut, water, and guar gum for stability on the ingredient label. This is what we will use. Do not be confused by cream of coconut, coconut cream, or coconut water. Thai Kitchen, Imperial Dragon, and Chaokoh are common brands. An interesting article by Bon Appetit can be found here about the differences.
When you use a can opener to open the top of a can of coconut milk, there is often a top layer that is thicker and more solidified, like butter, with a liquid below. Stir the two layers together with a butter knife to combine before using the amount that the recipe calls for.
Where do I purchase Thai and Asian ingredients?
Most grocery stores have an Asian or ethnic section, even Walmart, usually with the soy sauce. Asian grocery stores or Amazon are also another source for ingredients.

Savor with Jennifer participates in the Amazon Affiliate program and any purchases made from these Amazon links contribute a small percentage toward grocery purchases at no additional charge to you.
At the end of your chicken marinating time frame, soak bamboo skewers in water for 30 minutes. This prevents the wooden skewers from burning while the chicken cooks. Thread each chicken tenderloin onto a skewer.
Preheat a cast iron skillet, non-stick fry pan, or grill pan to a medium-high heat. Add a small amount of oil to the pan or a non-stick cooking spray and sear each side of the tenderloin, just until the chicken is cooked through, about 1-2 minutes on each side depending on the thickness of the chicken. The chicken will continue to cook up as it rests, and white meat tends to dry out easily, so make sure to remove the chicken from the pan as soon as the last bit of pink fades from the thickest part of the tenderloin.
Do I have to use chicken breast tenderloins?
No. Tenderloins are the more traditional choice, but chicken breasts or thighs cut into strips, or even cubes of similar size, also works well. I love using boneless, skinless chicken thighs as an alternative to white meat chicken. They are less expensive per pound and since they are not quite as lean, they have a little more flavor and are harder to overcook.
Serve Thai Chicken Satay Skewers with Peanut Dipping https://savorwithjennifer.com/thai-peanut-sauce-recipe/Sauce and Pickled Cucumber and Red Onions. Garnish with crushed peanuts and lime wedges if desired.
If you love Asian flavors, make sure to check out Shrimp and Fish Red Curry and Blood Orange Chicken for other tasty dishes to try.
I love questions and comments. Leave me one below!
Pin this recipe now to save for later!
Thai Chicken Satay Skewers
Marinated in coconut milk and curry, grilled chicken tenders are juicy and tender and so easy to make.
Ingredients
1.5

pounds

chicken breast tenderloins

1

tablespoon

olive oil
Marinade
7

ounces

coconut milk

3

cloves

garlic – finely minced

1

tablespoon

curry paste

1/4

teaspoon

salt

1/4

teaspoon

black pepper – fresh ground

1

tablespoon

brown sugar
Instructions
Whisk the marinade ingredients together in a mixing bowl.


Add the chicken to the marinade and refrigerate for 2 to 24 hours.


Soak bamboo skewers in water for 30 minutes.


Thread a chicken tender onto each skewers. Discard marinade.

Heat a non-stick fry skillet, cast iron, or grill pan to a medium-high heat.


Add oil or cooking spray.


In batches based on your pan size, sear each side of the chicken skewer for about 2 minutes each, just until the pink fades from the thickest part of the tender. Immediately remove from the pan.


Serve warm or at room temperature with Peanut Dipping Sauce and Cucumber Salad.

Nutrition
Calories:
227
kcal
|
Carbohydrates:
3
g
|
Protein:
24
g
|
Fat:
12
g
|
Saturated Fat:
7
g
|
Cholesterol:
72
mg
|
Sodium:
233
mg
|
Potassium:
498
mg
|
Sugar:
2
g
|
Vitamin A:
430
IU
|
Vitamin C:
2.4
mg
|
Calcium:
18
mg
|
Iron:
1.6
mg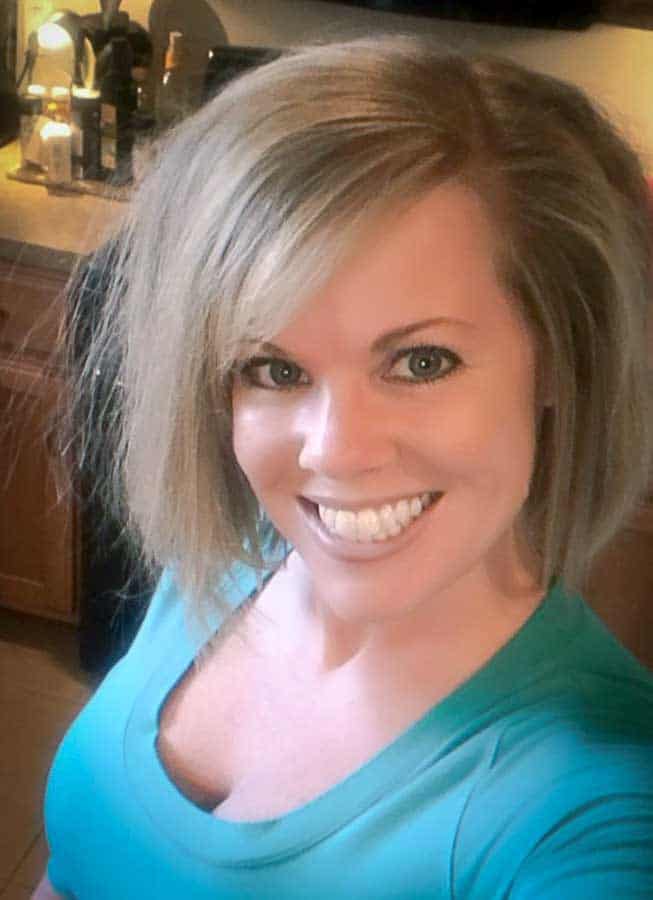 Mother, Gardener, Book Devourer, and Food Obsessor. I love being inspired with fresh, seasonal ingredients and relish every opportunity to elevate my home cooking. Join me!