This Stir-Fry version of my family's favorite Chinese Classic is NOT breaded and fried. My Sticky Orange Chicken Recipe has tender bites of chicken coated with a sweet and sticky orange-infused sauce that is sure to make everyone's dinner dreams come true!
Ready in 30 minutes, made with real ingredients, and better then take-away, this is the perfect weeknight meal that the whole family will love!
Microplane Graters and Zesters asked me to write this recipe for their website. I loved it so much, and I adore their tools, so I asked for permission to share it here as well.
Stir-Fry is so quick and easy!
Prepare your ingredients
Cube boneless, skinless chicken thighs
Grate, slice, and chop garlic, carrots, cilantro and green onion
Whisk together a simple sauce that includes fresh orange juice and orange zest
Stir-Fry the chicken and veggies
Add the sauce and simmer until sticky and bubbly!
How to make Sticky Orange Chicken Stir Fry
Begin by prepping your ingredients.
Stir Fry is a great choice for so many reasons. It can be very healthy with a lot of lean protein and fresh produce, usually it is minimally processed, and comes together quickly! Perfect for entertaining or when time is short.
Tips for successful Stir Fry
Make sure all of the ingredients and the sauce is prepared before turning on the heat.
If serving with rice, make sure to start it before cooking your stir-fry as the rice needs more time.
A wok is not necessary if you have a large non-stick skillet, fry pan, or a cast iron skillet.
A VERY HOT wok or skillet is essential.
Cook the meat in batches so it browns and doesn't steam.
Don't start with extremely cold meat, it can cool off the pan.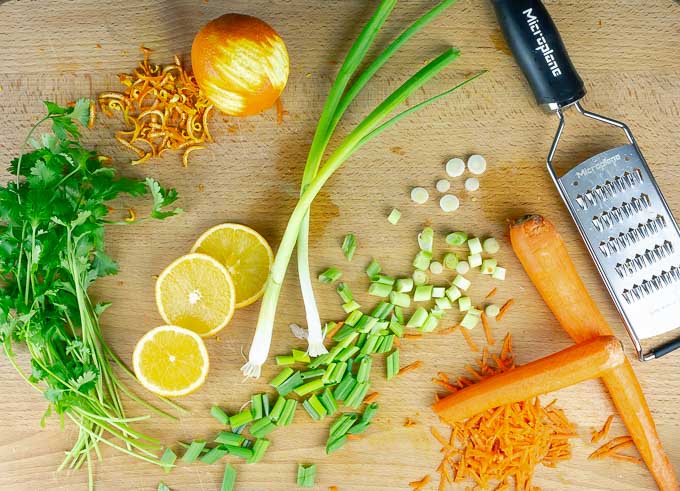 Cube boneless, skinless chicken thighs into 1-2″ pieces. I prefer the thighs over breasts for this recipe because they do not dry out as easily and brown beautifully.
The vegetables in my Sticky Orange Chicken are added at the end of the cooking process. Slice the green onions, finely mince the garlic, and I ADORE my Microplane tools for the carrots, ginger, and orange zest.
Microplane has a new Julienne Grater that makes prepping carrots a breeze. And who doesn't love the Classic Zester? I used that for the orange zest and for grating the ginger. It is my FAVORITE kitchen tool of all time…seriously. I'm such a dork, that my zester goes on vacation with me:).
After browning the chicken in two separate batches in a VERY HOT pan, add the sauce and simmer until it reduces and becomes the consistency of syrup. It will also continue to thicken a bit after being removed from the heat.
Stir in the fresh vegetables and serve with rice or noodles if desired. Garnish with additional fresh carrot, onions, and cilantro. Enjoy!
Make sure to check out a few other of my favorite Stir-Fries and Asian flavors:
Tried this? Leave me a question or comment below. I'd love to hear from you!
My family loves Orange Chicken so much, that we also make a version with Blood Oranges!
FOLLOW ME on Pinterest and make sure to pin this NOW!
Sticky Orange Chicken Recipe
Ingredients
2 1/2

pounds

chicken thighs, boneless and skinless

2

tablespoons

olive oil

8

green onions, sliced

1/2

cup

carrot, peeled and julienned

1/2

cup

cilantro, roughly chopped
Sauce
3/4

cup

orange juice, fresh squeezed

1/2

cup

brown sugar

1/2

cup

soy sauce

1/4

cup

honey

2

tablespoons

rice vinegar

2

tablespoons

orange zest

1

tablespoon

ginger, fresh peeled and grated

3

cloves

garlic, minced

1/4

teaspoon

crushed red pepper flakes
Instructions
Cube the chicken thighs into 1" – 2" pieces.

Whisk the sauce ingrediants together in a small bowl.

Preheat a large skillet or wok to a high heat.

Add 1 tablespoon of the olive oil to the skillet or wok.

Add half of the chicken and 2 tablespoons of the sauce.

Spread the chicken out in the pan and cook without disturbing it for 3-4 minutes or until one side begins to brown and caramelize.

Flip the pieces and cook the other side until browned and cooked through and no pink remains in the center.

Remove the chicken from the pan.

Repeat the process with the second tablespoon of oil, 2 more tablespoons of sauce, and the remaining chicken.

Return all of the chicken to the skillet or wok and add the sauce.

Simmer the sauce and chicken for 5-6 minutes until the sauce has thickened and reduced slightly.

Add the green onions, carrots, and cilantro and stir to combine.

Serve with rice and garnish with additional green onion, carrot, and/or cilantro.
Notes
-Stir Fry happens quickly! Make sure all of the ingredients and sauce is prepared before starting to cook.
-The sauce will continue to thicken as it cools.
Nutrition
Calories:
416
kcal
|
Carbohydrates:
36
g
|
Protein:
39
g
|
Fat:
13
g
|
Saturated Fat:
3
g
|
Cholesterol:
180
mg
|
Sodium:
1259
mg
|
Potassium:
655
mg
|
Fiber:
1
g
|
Sugar:
33
g
|
Vitamin A:
404
IU
|
Vitamin C:
22
mg
|
Calcium:
57
mg
|
Iron:
2
mg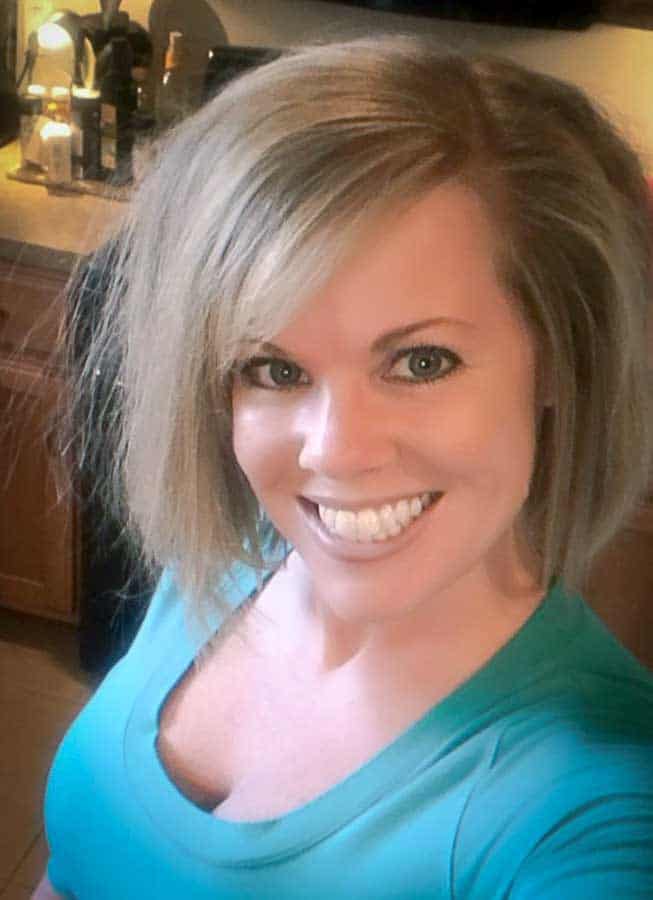 Mother, Gardener, Book Devourer, and Food Obsessor. I love being inspired with fresh, seasonal ingredients and relish every opportunity to elevate my home cooking. Join me!