Excellence in simplicity! Oven Roasted Asparagus shows off these tender, crisp spears to perfection!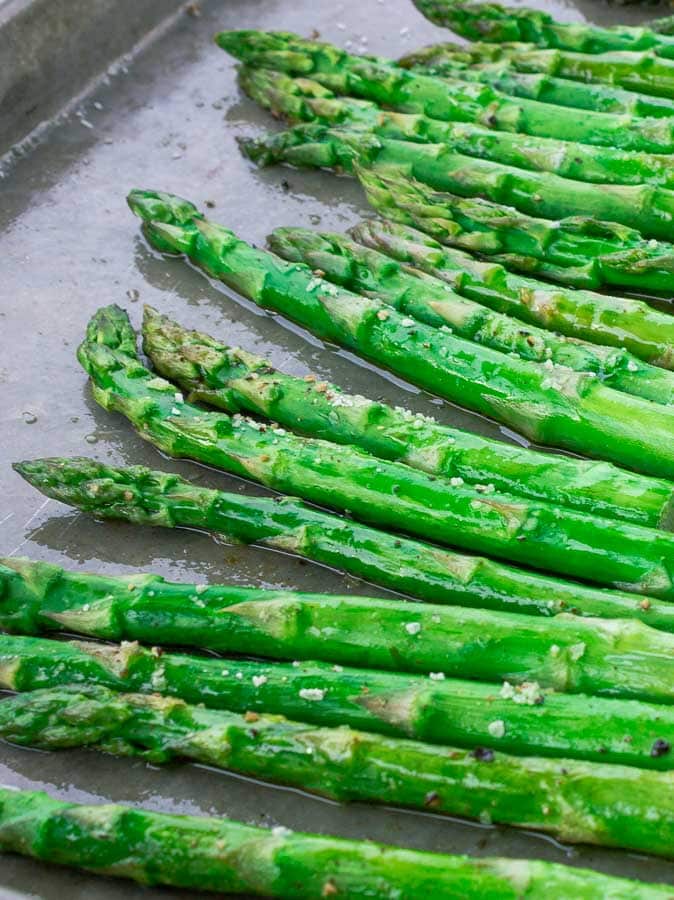 While Asparagus is available year round, Spring is when it is best! The flavor is bright and clean with earthy undertones and is very mild when the spears are fresh.
One of my favorite ways to prepare vegetables is to roast them. The flavor and texture of vegetables roasted in the oven or on the grill may surprise even a picky eater. The combinations are endless like Fresh Roasted Green Beans with Bacon and Shallots, Roasted Brussels Spouts, and even Pumpkin with Crispy Sage and Brown Butter. Best part, the preparation is so incredibly simple! And have you tried more non-traditional roasted vegetable choices like Roasted Butternut Squash or Roasted Sweet Mashed Potatoes? I'm telling you, Roasting can elevate and improve on a vegetable's taste and texture in the most unexpected and delightful ways! Don't be surprised if you discover a new favorite!
Oven Roasted Asparagus is an extremely popular side dish at our house. We even cook it on the barbecue grill with Grilled Lemons. It's so incredibly easy to prepare and the results are always consistently delicious. In the spring especially, it makes almost a weekly appearance.
How do I make Oven Roasted Asparagus?
To roast vegetables, make sure to start with a preheated, hot oven. I use 425 degrees, but if you are cooking other parts of your meal at the same time, this temperature can be adjusted a little up or down either way and you will still get a great result.
In addition to the preheated, hot oven, make sure your vegetables are not crowded on the pan. Overcrowding can cause the vegetables to steam, as opposed to roasting.
To prepare Oven Roasted Asparagus, snap the bottom ends off the spears about an inch from the bottom. You can also choose to cut off the bottoms with a knife if you prefer. Often this is where the whitish end turns green. The whitish bottoms can be tough and slightly stringy.
Place the Asparagus spears on a cookie sheet and drizzle with olive oil. Turn to coat them and then sprinkle kosher or sea salt and fresh cracked pepper.
Roast them in the preheated oven for 10 minutes and your result will be a juicy, tender but still slightly crisp Asparagus Spear.
When making Oven Roasted Asparagus, I usually choose a thicker stalk. Sometimes only pencil thin Asparagus is available. This is fine, but slightly less time in the oven may be necessary if a tender, crisp result is desired.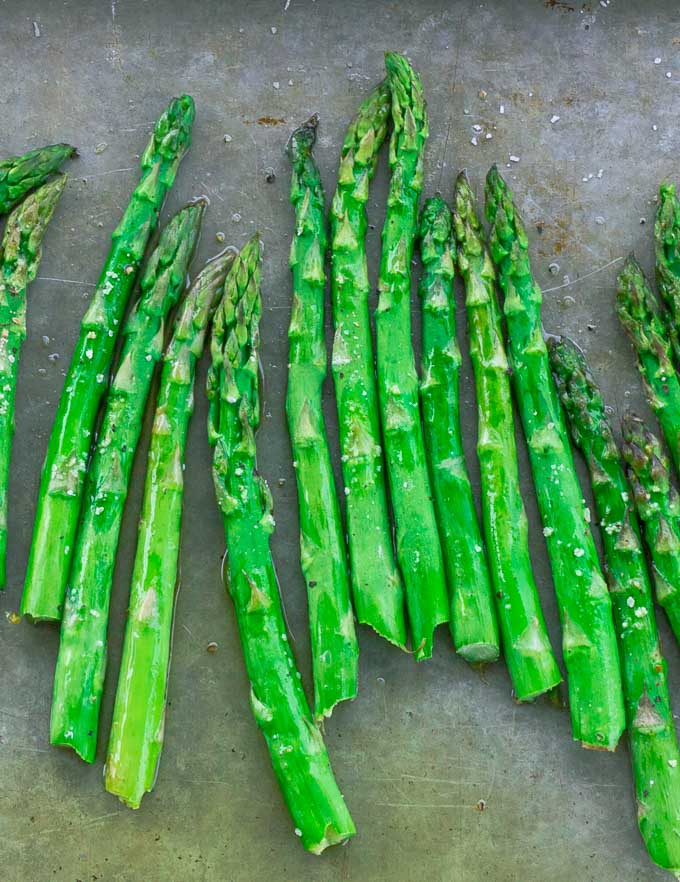 Oven Roasted Asparagus is the perfect accompaniment to so many dishes. I really love it with seafood dishes like my Pan Seared Salmon with Cream Sauce or Baked FRESH Salmon Cakes. These Sticky Asian Barbecue Ribs and Spatchcock Roasted Chicken are a few other great ideas!
Have you tried my Oven Roasted Asparagus? Leave me a review or question below, I'd love to hear from you!
FOLLOW ME on Pinterest and make sure to pin this now!
Oven Roasted Asparagus
Simplicity at it's best. Oven Roasted Asparagus shows off these tender, crisp spears to perfection.
Ingredients
1

pound

Asparagus

2

tablespoons

olive oil

1

teaspoon

kosher or sea salt

1/4-1/2

teaspoon

pepper
Instructions
Preheat oven to 425 degrees.


Snap off bottom ends of asparagus.

Lay asparagus on a cookie sheet and drizzle with olive oil.


Turn spears to coat in oil.


Sprinkle with salt and pepper.


Roast for 10 minutes.

Nutrition
Calories:
56
kcal
|
Carbohydrates:
2
g
|
Protein:
1
g
|
Fat:
4
g
|
Sodium:
389
mg
|
Potassium:
152
mg
|
Fiber:
1
g
|
Sugar:
1
g
|
Vitamin A:
570
IU
|
Vitamin C:
4.2
mg
|
Calcium:
18
mg
|
Iron:
1.6
mg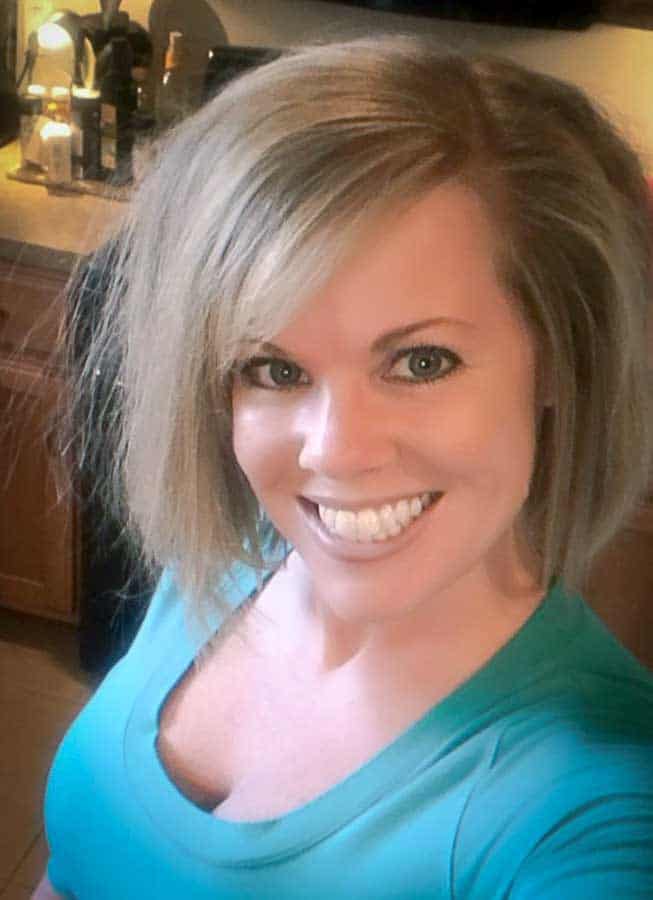 Mother, Gardener, Book Devourer, and Food Obsessor. I love being inspired with fresh, seasonal ingredients and relish every opportunity to elevate my home cooking. Join me!