Salmon is all about how you cook it. When done correctly, it will melt in your mouth like butter. Of course, it always helps when you are cooking with butter. My Pan Seared Salmon with Garlic Wine Cream Sauce is guaranteed to impress.
This simple, but decadent recipe uses technique that will create a dish easy enough for a weeknight, but would be outstanding for company.
I have to admit, cooking fish used to made me nervous. The easiest way to mess up seafood and fish of all types is to overcook it. I'm from the Midwest and it's hard to come by fresh seafood, which can really limit ones exposure to a properly prepared dish. However, my family and I love to go to the coast and pretend to be beach bunnies for a week every spring. My ideal beach vacation tends to be beach, pool, nap, followed by dinner (seafood all week!) and drinks in an outstanding restaurant. Repeat for an entire week with some shopping thrown in, and you have yourself a happy bunny.
But only one week a year of seafood is never enough. So the learning, exploring, creating process begins.
One of my favorite of all time cookbooks is called Taste and Technique. Note: any purchases from these links contribute a small portion towards grocery shopping for these recipes at no additional charge to you. I absolutely recommend purchasing this or checking it out at the library. While her recipes are exquisite, the skills she teaches are invaluable.
I've adapted her basic pan seared salmon techniques into the recipe I'm sharing with you today.
How to make Pan Seared Salmon with Garlic Wine Cream Sauce
First, choose a quality piece of fish. A thick, center cut filet of fresh, wild caught salmon with the skin on will produce the best result.
Start by heating a black steal pan over medium-high heat or my preferred choice in this instance is a cast iron.
Add 1 tablespoon of olive oil to the pan. Season both sides of the salmon with salt and pepper and then place them in the pan skin side down to ensure an even sear. Cook for about 3 minutes until the bottom half of the salmon looks opaque.
Now the buttery goodness begins. Add 3 tablespoons butter to the edges of the pan and allow to melt. Start spooning the melted butter on top of your fillets for about 30 seconds until the top of the fillet is slightly cooked.
Place the pan in a preheated oven and cook for 3 minutes. Repeat the butter basting. Cook an additional 3 minutes in the oven until the salmon has reached slightly less then your desired doneness. The salmon will have a brief resting period and will cook up slightly. So, be very careful to not overcook it. I prefer medium to no more then medium well cooked salmon so I usually pull it from the oven at medium rare. The thickness of your fillets will also vary the cooking time. Pull the salmon from the oven when an instant read thermometer reads 130 degrees.
Side note of my two cents: The FDA recommends fish be cooked to 145 degrees. Keep in mind this is the finished temperature. The fish continue to cook up as it rests. My opinion on that is, if you like overcooked fish, follow that rule. America's Test Kitchen/Cook's Illustrated recommends removing the salmon from the heat at 120-125 depending on the variety of Salmon. I meet in the middle with 130 degrees.
Immediately remove the salmon to a serving platter and lightly tent with foil.
Place your skillet/pan back on the stove on a medium high heat.
Saute 2 sliced shallots in the fish drippings for about 2 minutes. Add 3 minced cloves of garlic and continue sauteing for another minute or two.
Pour in about a cup of white wine. I chose a New Zealand Sauvignon Blanc which you should also be sampling while creating your dish. Adjust heat to bring wine mixture to a gentle simmer and reduce slightly making sure to scrape all browned bits from the bottom of the pan. Remove from heat and add 1/2 to 1 cup of cream or half and half. Stir in half of a bunch of chopped Italian parsley. Taste and add salt and pepper as necessary.
Serve salmon over a bed of fettuccine or linguine if desired. Top salmon with your garlic wine cream sauce, a squeeze of lemon juice, and grate parmesan or pecorino over that. A Microplane Grater is marvelous for this.
I served with Oven Roasted Asparagus (which roasted in the oven the same time as my fish cooked) and the Sauvignon Blanc as an accompaniment. Enjoy!
Pan Seared Salmon with Garlic Wine Cream Sauce
Pan seared salmon served over pasta and topped with a garlic wine cream sauce.
Ingredients
2

pounds

center cut salmon cut into 5-6 uniform pieces

1

tablespoon

extra virgin olive oil

fresh ground pepper

kosher or sea salt

3

tablespoons

butter at room temperature

2

shallots sliced

3

cloves

garlic minced

1

cup

dry white wine

1/2 to 1

cup

heavy cream or half and half

1/2

bunch Italian parsley chopped

Fresh grated parmesean or pecorino cheese to taste
Instructions
Preheat oven to 350 degrees.

Fill pasta pot with water, bring to boil, and salt water.


Add pasta to boiling water when you start cooking the salmon.

Season both side of salmon with salt and pepper.

Heat black steal or cast iron pan to a medium-hot temperature.

Add olive oil.

Place salmon skin side down in pan.

Cook approximately 3 minutes until the bottom half of the salmon is no longer translucent.

Add butter to pan and melt.

Spoon butter over the top of the salmon for about 30 seconds until the top is slightly cooked.

Place pan in oven for 3 minutes.

Spoon butter over the top of the salmon a second time and place back in over for another 3 minutes or until salmon is slightly less cooked then desired doneness, about 130 degrees.


Remove salmon from pan and loosely tent with foil.


Saute shallots in drippings for 2 minutes.

Add garlic and continue sauteing 1-2 minutes.

Add wine and bring to gentle simmer, reducing slightly.

Turn off heat.

Add cream or half and half and parsley.

Taste sauce and add salt and pepper if needed.

Place salmon on a bed of cooked pasta if desired.


Top salmon with sauce, a squeeze of lemon, ground black pepper, and fresh grated parmesan.
Nutrition
Calories:
395
kcal
|
Carbohydrates:
3
g
|
Protein:
30
g
|
Fat:
24
g
|
Saturated Fat:
9
g
|
Cholesterol:
125
mg
|
Sodium:
127
mg
|
Potassium:
817
mg
|
Sugar:
1
g
|
Vitamin A:
525
IU
|
Vitamin C:
1.2
mg
|
Calcium:
42
mg
|
Iron:
1.4
mg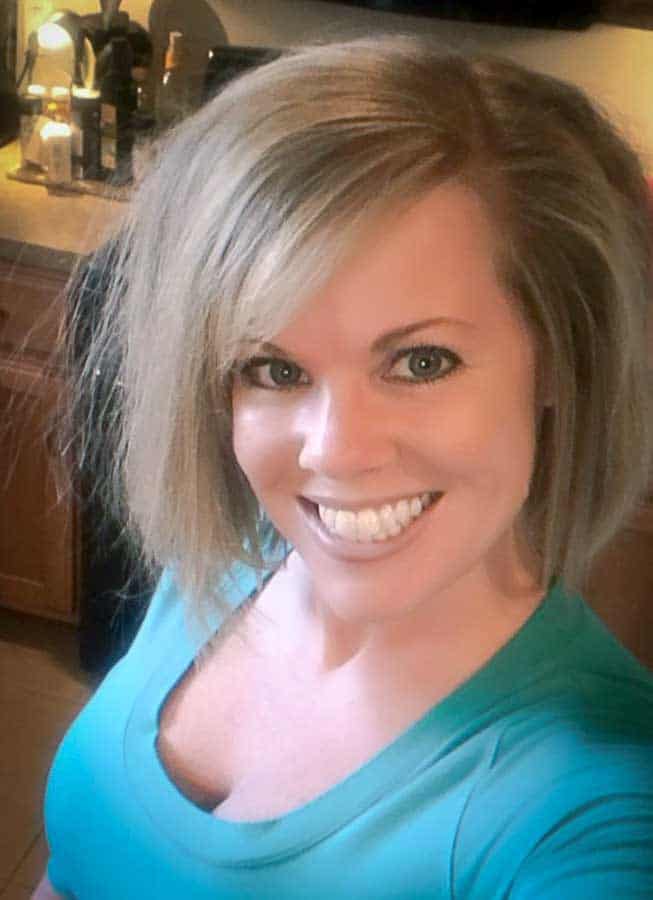 Mother, Gardener, Book Devourer, and Food Obsessor. I love being inspired with fresh, seasonal ingredients and relish every opportunity to elevate my home cooking. Join me!