This Pumpkin Pie Dutch Baby Recipe has all the fabulous fall flavor you love in a puffy, golden oven-baked pancake.
A Dutch Baby, sometimes called a German Pancake, is a bit of cross between a popover or a Yorkshire pudding. The outside is puffed up to beautiful golden, buttery crisp perfection with a slightly more eggy interior, like that of a crepe. The Pumpkin and Spice flavors elevate this classic breakfast dish into a treat for the Fall and Winter seasons. Quick enough for a weekday treat, it's golden, puffy perfection will also impress your holiday breakfast crowd.
I grew up eating Dutch Babies for breakfast on many a Sunday morning. It was one of my Dad's favorite dishes to make. Partially because they are so delicious, and partially because they come together so quick and easy and the oven does all the work.
My kiddos and their friends have really been enjoying the results of my recent obsession with this childhood, nostalgic treat. I think we've eaten close to a dozen in the last week, and let me tell you, there have been no complaints! The Caramel Apple Dutch Baby was a smashing success and the Savory Variety (recipe to come!) with caramelized mushrooms, panchetta, leeks, and parmesan cheese was, seriously, no joke.
The ingredient list for a Dutch Baby simply includes the pantry staples of butter, eggs, flour, milk, and sugar. Everything except the butter is whipped (or blended) together and then poured into a very hot cast iron skillet and baked in the oven until it rises to puffy, golden perfection. In our Pumpkin Spice version, the pumpkin puree and spices will make all the Pumpkin Spice girls out there giggle with glee.
How to make a Pumpkin Pie Dutch Baby
Preparation for a Dutch Baby is very simple, which makes it a great quick, but impressive breakfast.
Preheat a cast iron skillet in the oven until the butter is bubbling and the skillet is very hot all the way through. The preheated skillet is very important to getting the best rise in your Dutch Baby.
Put all of the ingredients into a blender and blend to frothy perfection. The batter may also be whisked in a mixing bowl, but I grew up with the blender method, and love the dump in, turn on, and then pour out simplicity.
Pour the batter into the preheated skillet with the melted, bubbly butter in the bottom. Bake the Pumpkin Pie Dutch Baby until the outside edges rise and are golden and the center is soft-set.
Pro Tips for the best flavor and rise of your Dutch Baby:
The cast iron skillet needs to be VERY hot before pouring in the batter in order for the pancake to rise to it's full potential. Make sure it pre-heats in the oven for the recommended time.
Using room temperature eggs and milk, or even not extremely cold, WILL make a difference in how much the Dutch Baby will rise.
Salted butter and whole milk add to the over-all flavor and texture of the Dutch Baby. Use them! Dutch Babies are not diet breakfast food.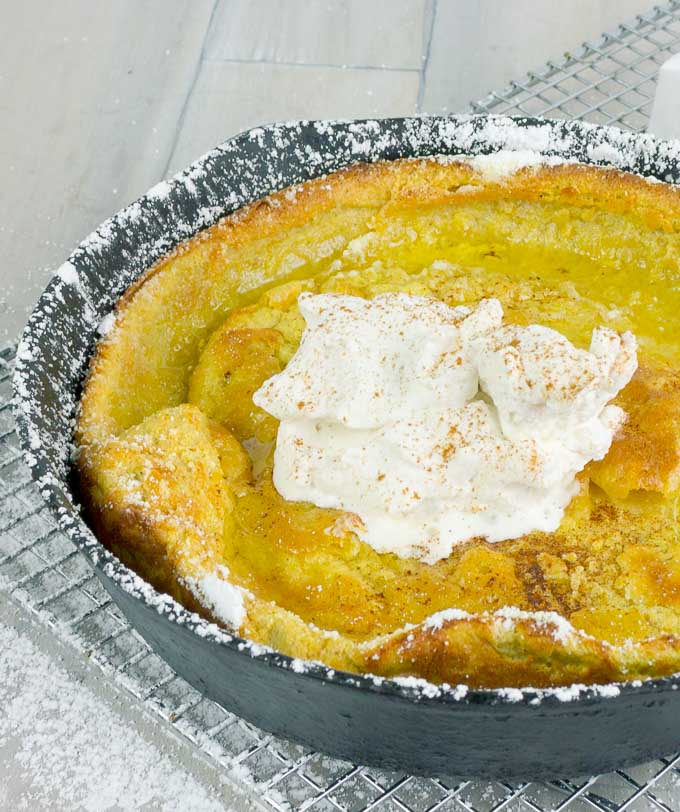 Dutch Babies are best served warm. A big ol' dollop of spiced whipped cream, a sprinkle of powdered sugar, with a little drizzle of maple syrup are how we love to eat them in my house. Spiced whipped cream can be made by whipping heavy whipping cream until slightly firm and then adding a bit of confectioners powdered sugar and a pinch of cinnamon and nutmeg.
For a few other quick and easy breakfast ideas, try my Caramel Apple Dutch Baby, Blueberry Muffins with Streusel, and Pumpkin Pie Pancakes.
Have you tried this Pumpkin Pie Dutch Baby? I love questions, comments, and reviews. Leave me one below!
FOLLOW ME on Pinterest and Pin this now to save for later!
Pumpkin Pie Dutch Baby
This Pumpkin Pie Dutch Baby Recipe has all the fabulous fall flavor you love in a puffy, golden oven-baked pancake.


Ingredients
4

tablespoons

butter, salted

3

eggs, large

2/3

cup

flour

1/2

cup

milk, whole

2

tablespoons

pumpkin puree

1

tablespoon

sugar

1/2

teaspoon

cinnamon

1/4

teaspoon

nutmeg

1/4

teaspoon

ginger, ground

1/4

teaspoon

cloves, ground
Instructions
Preheat the oven to 425 degrees Fahrenheit.

Place the butter in a 9 or 10" cast iron skillet. Bake the skillet with the butter in the bottom in the oven for 5 minutes until the butter is melted and bubbly.

Place the remaining ingredients in the blender, starting with the eggs, and blend until combined and frothy.

Pour the batter into the preheated skillet over the melted butter.

Bake for 15-20 minutes until the edges have risen, browned, and the center is soft-set to the touch.

Serve warm with maple syrup, powdered sugar, and whipped cream if desired.
Notes
Nutrition is approximate.
Cook time can very with the size of the cast iron skillet.
Nutrition
Calories:
258
kcal
|
Carbohydrates:
22
g
|
Protein:
7
g
|
Fat:
16
g
|
Saturated Fat:
9
g
|
Cholesterol:
156
mg
|
Sodium:
161
mg
|
Potassium:
124
mg
|
Fiber:
1
g
|
Sugar:
5
g
|
Vitamin A:
1745
IU
|
Vitamin C:
1
mg
|
Calcium:
59
mg
|
Iron:
2
mg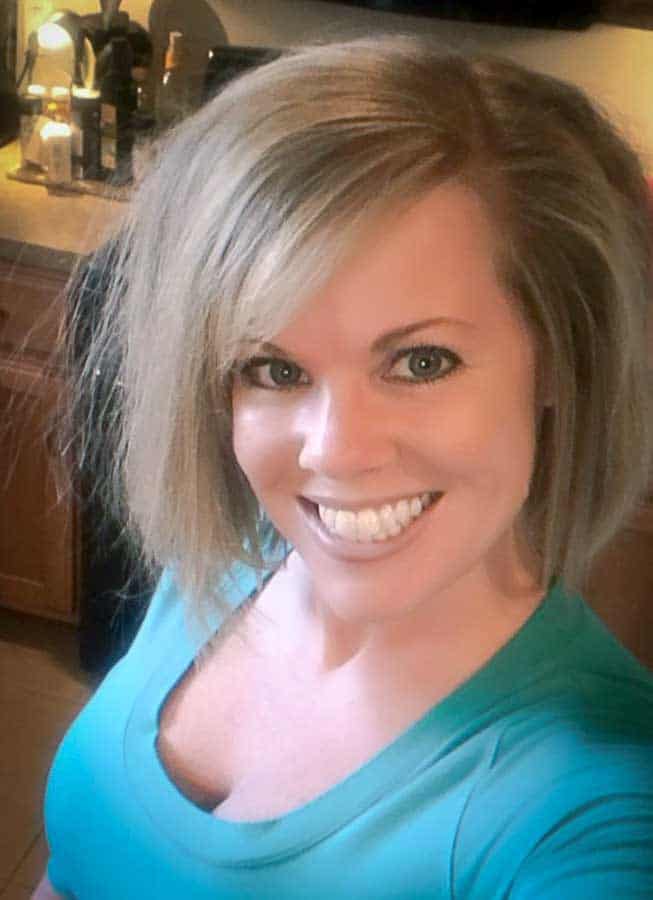 Mother, Gardener, Book Devourer, and Food Obsessor. I love being inspired with fresh, seasonal ingredients and relish every opportunity to elevate my home cooking. Join me!