Brined and Herb Butter Roasted Turkey Breast with the Best Easy Gravy – For when you want the juiciest and most flavorful Main Course for your special meal.
A Roasted Turkey Breast is one of those special meals usually reserved for a holiday or company so it needs to be Perfect every time.
If what you desire is a golden-crisp, herb-flavored skin with a juicy, incredibly moist interior as the star of your meal, this is the recipe for you.
How to make Herb Butter Roasted Turkey Breat with the Best Easy Gravy
Turkey is not hard to prepare. It's relatively inexpensive per pound and it's almost always available. So, it always surprises me that it's not prepared more often.
There are a few simple steps that will guarantee a Perfect Brined and Herb Butter Roasted Turkey Breast with the Best Easy Gravy.
The first step is to make sure the turkey is completely thawed if using a frozen breast. Sounds simple enough, but if you are a procrastinator like I tend to be, don't wait until the last minute to buy your turkey. If the interior is still partially frozen when you start to roast it, it will not cook evenly and by time the interior temperature is at 165 degrees, the exterior meat will dry out.
The second step is to brine for 4-5 hours. Turkey breast is an extremely lean cut of meat with little fat to keep it juicy. Brining infuses the meat with additional moisture and flavor and helps it to retain it's own juices during the roasting process. My Simple Chicken & Turkey Brine is perfect for a turkey breast, and other lean cuts like pork loin as well.
Third, smear that bird up with butter. A easy mix of room temperature butter, fresh thyme, pepper, and minced garlic will create a gorgeous, golden skin on your turkey breast. The bonus with this technique is if you love gravy as much as I do, the herb butter combined with the drippings makes a fantastic base for your gravy. Do make sure the skin is completely dry before applying the herb butter, or it will not adhere to the skin quite as well. Other herbs that work well together in the herb butter include, but are not limited to, rosemary, sage, and parsley.
Last, but maybe the most important. Use a meat thermometer.
Here is a link to one of my favorites and if you choose to purchase this one, a small percentage comes back to Savor with Jennifer at no additional cost to you.
Sometimes, turkeys come with one of those little red pop-up buttons. Ignore that. Those don't pop until 180 degrees or more and you want your turkey to come out of the oven at 160-165 degrees, especially since you will let it rest for about 10 minutes before carving and it will continue to cook up as it rests.
While your turkey is resting, bring to a boil 1/2 cup of your buttery goodness, already fully-seasoned turkey drippings. Stir in some flour and cook that for a minute or two to remove the flour flavor. Whisk in a good quality chicken stock a little at a time and then bring to a gentle simmer. Taste your gravy for seasoning, but I've found that all the flavors of the brine and the herb butter are all that is needed, unless you prefer additional pepper.
My Butternut Squash with Sage Butter, Roasted Asparagus , Roasted Brussels with Bacon & Shallots are a couple of excellent side options other then the necessary mashed potatoes to go with this scrumptious gravy. For an appetizer, maybe some Spicy Grilled Shrimp Toasts and try a Cherry Pie with Homemade Filling for dessert.
If this Brined and Herb Butter Roasted Turkey Breast with the Best Easy Gravy is what you made for your holiday meal or your next dinner party, leave me a comment below. I'd love to hear from you!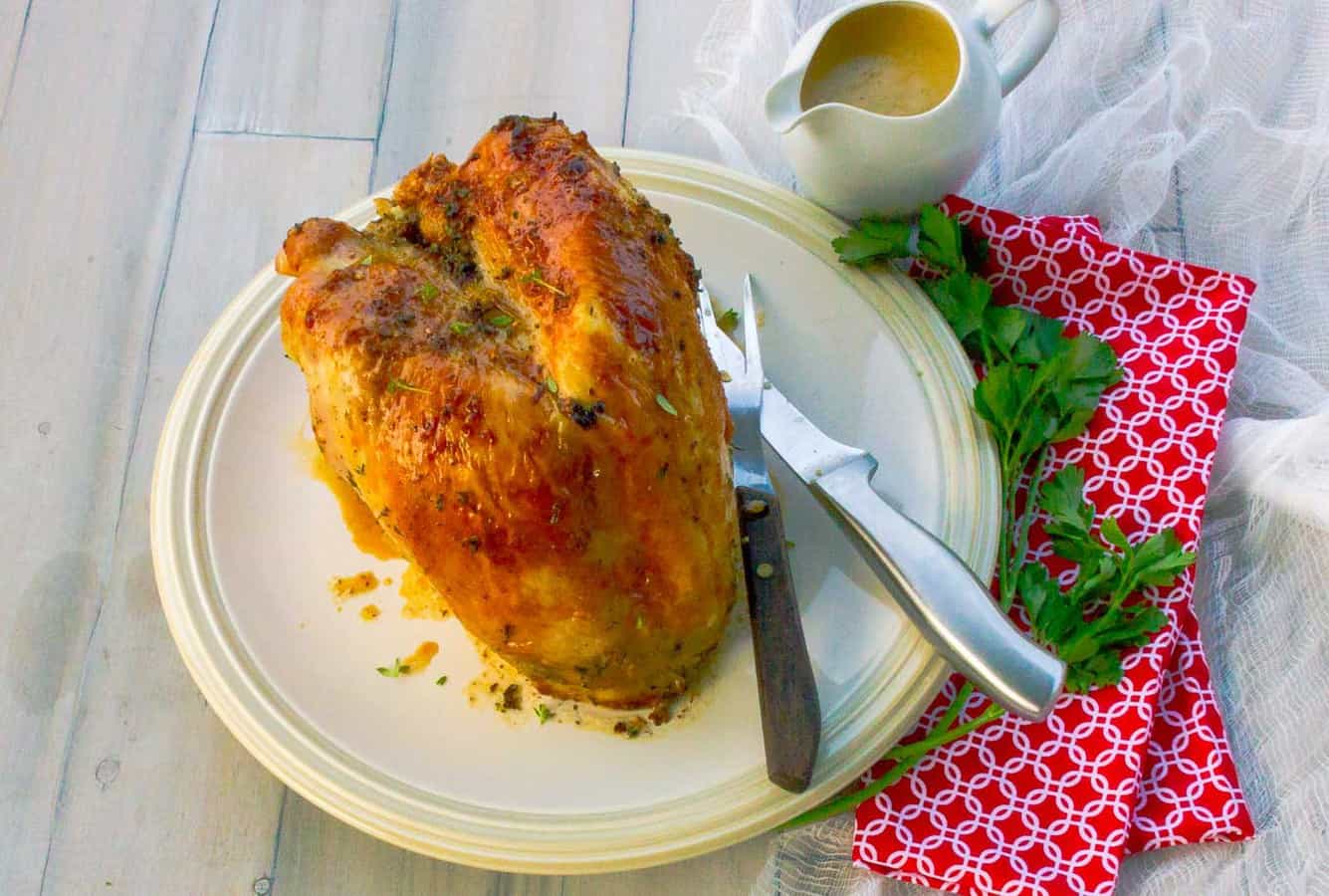 Brined and Herb Butter Roasted Turkey Breast with the Best Easy Gravy
A golden-crisp and herb-flavored, buttery skin with a juicy, incredibly moist interior. The buttery, fragrant drippings make the best simple turkey gravy.

Ingredients
1

5-6 pound

bone-in, skin-on turkey breast

1

recipe

Turkey Brine - See Link in the Recipe Notes below.
Herb Butter
1/2

cup

room temperature butter

1/2

teaspoon

fresh ground pepper

2

tablespoons

fresh thyme

1

clove

garlic finely minced
Turkey Gravy
1/2

cup

turkey drippings

1/4

cup

flour

2

cups

chicken or turkey stock

broth may be substituted
Instructions
Completely defrost turkey breast if using a frozen breast.


Brine turkey breast for 4-5 hours using the Brine recipe in the link below.


Thoroughly rinse all of the brine from the turkey breast, pat very dry, and let rest at room temperature for 30-60 minutes.


Preheat oven to 400 degrees Fahrenheit.


Stir together the room temperature butter with the pepper, thyme, and garlic.


Smear the entire turkey breast with the butter mixture.


Bake in a roasting pan or baking dish uncovered for 1 hour and 20 minutes or until the interior temperature reaches 160 degrees. Baste upon occasion if desired,


Let turkey rest for 10 or more minutes before carving.

Turkey Gravy
Bring 1/2 cup turkey drippings to a gentle simmer in a small saucepan over a medium low heat.


Stir in flour and cook for 1-2 minutes.


Whisking quickly, slowly add broth or stock.


Bring to a gently simmer and let boil for 1 minute.

Nutrition
Calories:
145
kcal
|
Carbohydrates:
6
g
|
Protein:
2
g
|
Fat:
12
g
|
Saturated Fat:
7
g
|
Cholesterol:
32
mg
|
Sodium:
207
mg
|
Potassium:
88
mg
|
Sugar:
1
g
|
Vitamin A:
440
IU
|
Vitamin C:
3.1
mg
|
Calcium:
12
mg
|
Iron:
0.6
mg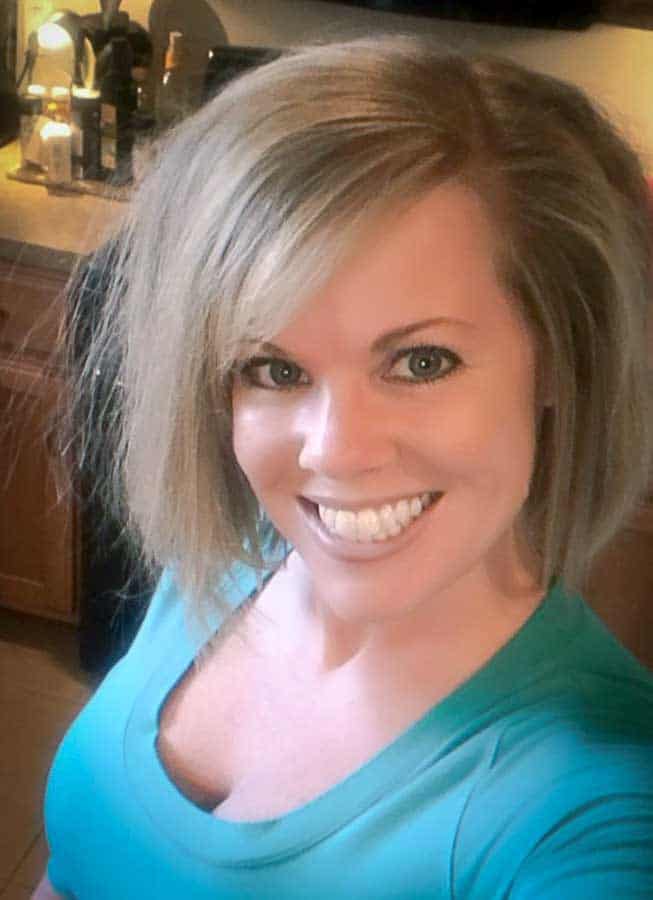 Mother, Gardener, Book Devourer, and Food Obsessor. I love being inspired with fresh, seasonal ingredients and relish every opportunity to elevate my home cooking. Join me!