25 Easy and Unique Grilling Ideas and Recipes to inspire your inner Grill Chef.
Who doesn't love firing up the grill? For some reason, everything just tastes better when it's barbecued.
If you are tired of your usual grilling menu, you've come to the right place to elevate your repertoire!
I adore everything about outdoor grilling while relaxing on the patio with a big ol' glass of wine. Our family likes to barbecues almost year round, so variety is important.
Here's a great lineup of everything from savory sides, amazing appetizers, delicious desserts, main courses, and even a cocktail made on the grill to inspire your next weeknight dinner or weekend cookout.
Great Grilling Recipes
Avocado, Grilled Peach, and Chipotle Shrimp Salad by Flavor and Savour
This Avocado, Grilled Peach and Chipotle Shrimp Salad combines grilled sweet peaches, creamy avocado, spicy shrimp and smoky bacon, all on a bed of garden fresh greens. Topped with a peach dressing, this is summertime dining at its best!
Grilled Pineapple Teriyaki Chicken Kabobs by Savor With Jennifer These easy kabobs have tender, juicy chicken that is marinated in a flavor packed pineapple teriyaki. A rainbow of crisp vegetables and fresh pineapple basted with the sticky, sweet marinade tastes like Spring in every bite.
Grilled Hawaiian Pork Chops by A Cedar Spoon
Grilled Hawaiian Pork Chops make a flavorful and easy summer meal that the whole family will love. Pork chops are marinated in a Hawaiian sauce, grilled to perfection and topped with a sweet pineapple salsa.
Spicy Grilled Salmon with Avocado Salsa by Yummy Healthy Easy The whole family will go crazy for this Spicy Grilled Salmon with Avocado Salsa! Easy and quick to make and tastes like restaurant quality!
Grilled Watermelon Habanero Margarita by Cooking With Molly
Sweet-Spicy and addictively Yummm margarita infused with Caribbean flavors!! This margarita is what summer days are made of, easy, breezy and absolutely MUST for your parties.
Grilled Cornish Game Hens with Thai Marinade by Went Here 8 This
These cornish game hens are marinated in a delicious blend of Thai spices, then grilled to juicy perfection in just a matter of minutes for the most perfect easy-to-make Thai BBQ! A must for the summer grilling season!
Grilled Pineapple With Honey Sriracha Sauce and Basil Ice Cream by Ramshackle Pantry
A Sweet and tasty grilled Pineapple that is the star. A Honey Sriracha sauce is really something special though. Finally, the Basil Ice Cream is a cool balance to sriracha's heat.
Easy Grilled Filet Mignon Dinner with Herb Butter by 2 Cookin' Mamas
Fire up the grill for a delicious, tender, melt-in-your-mouth Grilled Filet Mignon and vegetable skewer dinner topped with a homemade herb butter to take it all up a notch.
Sweet and Sticky Siu (Chinese BBQ Pork) by Pups with Chopsticks If you love a juicy, sweet & sticky char siu (Chinese BBQ Pork), give this easy recipe a try!
Grilled Triple Berry Crisp in a Cast Iron Skillet by Savor with Jennifer This crisp combines the juiciest, fresh berries of the season with all the added flavor and enjoyment of firing up the barbecue grill. A golden, buttery crumble with a pinch of cinnamon tops these bubbling berries.
Grilled Mahi Mahi with Cherry Chipotle Salsa by Erica's Recipes Fresh, grilled mahi mahi fish, topped with a kicked up cherry chipotle salsa made using fire-roasted tomatoes and garlic. Ready in minutes, this easy, healthy Grilled Mahi Mahi with Cherry Chipotle Salsa dinner is summer perfect.
Grilled Peaches with Whipped Vanilla Bean and Honey Ricotta by Pina Bresciani These grilled peaches topped with whipped vanilla bean and honey ricotta are the perfect summer dessert. When grilled, the peaches release their juices and caramelize, and the flavored ricotta is the perfect compliment to these peaches!
Grilled Blueberry Balsamic BBQ Turkey Legs by Running to the Kitchen
These blueberry balsamic BBQ turkey legs are grilled to perfection while coated with this deliciously easy summer BBQ sauce giving the famous Disney dish a run for its money!
Grilled Green Beans with Gochujang Mayo by Bowl of Delicious These Grilled Green Beans are covered in a delicious, spicy gochujang mayo mixed with toasted sesame oil and soy sauce.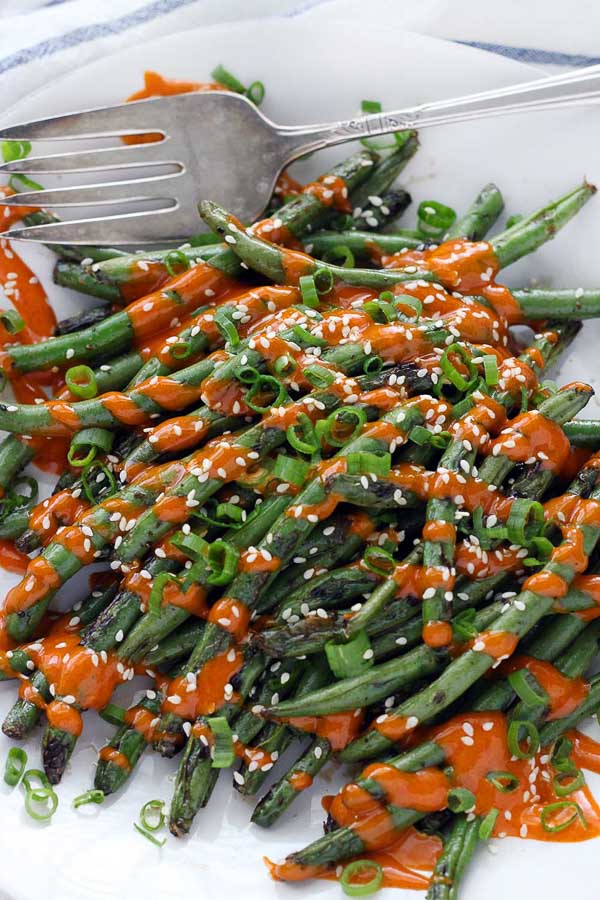 Sweet Chipotle Pork Tenderloin with Chimichurri by Savor With Jennifer A smokey-hot, brown sugar wet rub that is also basted on the meat as it barbecues and develops into a divine crust. The fresh, tartness of the Cilantro Lime Chimicurri is the perfect accompaniment when it is served on slices of the pork tenderloin.
Romaine Hearts Grilled Chicken Caesar Salad by Eating Richly Take your chicken Caesar salad to the next level with grilled romaine hearts and seasoned grilled chicken, drizzled with a quick and easy, creamy Caesar dressing. This dinner recipe is gluten free, low carb and keto, and packed with flavor!
Korean BBQ Flat Iron Steak with Gochujang Marinade by Went Here 8 This
This Korean BBQ flat iron steak is marinated in the most amazing gochujang marinade and grilled to mouthwatering perfection.
BBQ Asian Asparagus by Another Food Blogger This Asian asparagus recipe is definitely one of my favs, so crank up that weber, marinade your asparagus and GET ON IT!!
Grilled Nectarine Salad by Caroline's Cooking With a delicious balance of sweet nectarine, crunchy peppery arugula, goat's cheese and pine nuts, you'll be wanting it any time you can.
Hawaiian Huli Huli Chicken Pineapple Rice Bowls by Delicious Table Healthy tropical Hawaiian Huli Huli Chicken Pineapple Rice Bowls; island "turn-turn" grilled chicken, served in pineapple bowls, with tropical rice!
Easy Grilled Flank Steak with Chimichurri Sauce by A Cedar Spoon Juicy, tender flank steak is marinated and grilled to perfection and topped with a flavorful chimichurri sauce.
Grilled Goat Cheese Bruschetta by Savor With Jennifer Toasted on the barbecue grill, smeared with creamy Goat Cheese, and topped with a bright, flavorful Tomato, Kalamata Olive, and Herb Salad.
Grilled Fish Tacos with Mango Salsa & Avocado Lime Sauce by We're Parents The flavor infused when you grill fish is amazing!
Street Corn 3 Ways: Mexican, Greek & Caribbean by Chef Sous Chef Mexican Street Corn, or Elotes, is the ultimate in simple comfort food.
Chipotle-Honey Barbecue Spareribs by Delicious Little Bites These ribs give you a nice balance of smoky chipotle heat and sticky honey sweetness.
I hope your inner Grill Chef has been inspired by these 25 Easy and Unique Grilling Ideas and Recipes!
Make sure you follow me on Pinterest!
Pin this Recipe Collection now!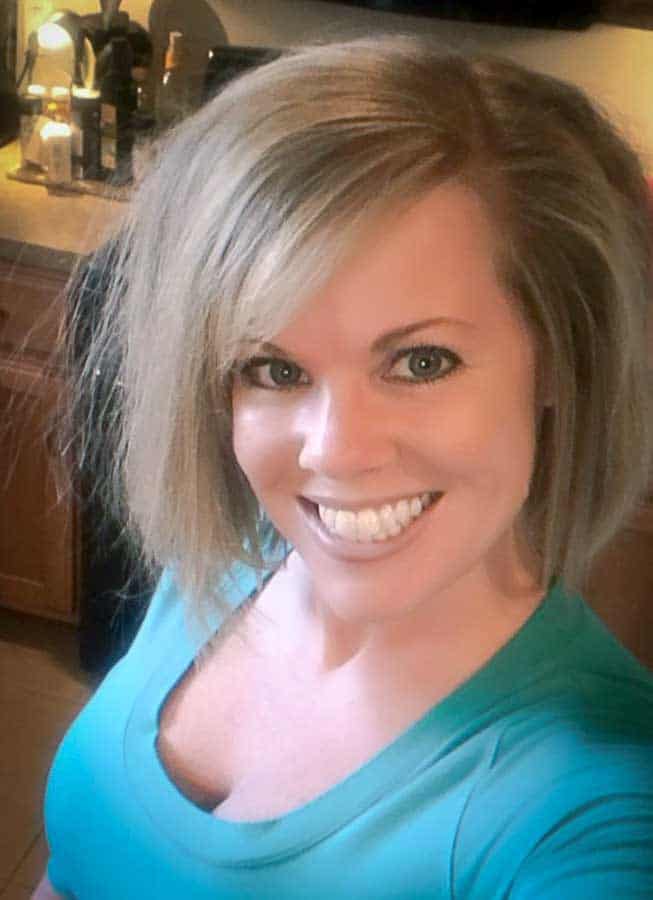 Mother, Gardener, Book Devourer, and Food Obsessor. I love being inspired with fresh, seasonal ingredients and relish every opportunity to elevate my home cooking. Join me!