Culinary enjoyment awaits with these Irish Inspired Recipes!

From Scrumptious Appetizers, Decadent Desserts, Meaty Mains, and Drinkalicous Cocktails, these Irish Inspired Recipes are perfect year round!
Ireland is surrounded by water, so Irish food is known for the quality and freshness of its ingredients. What could be more inspiring than that? And while I'm not promising that these are the most authentic Irish recipes, the inspiration is there and they are by far the most delicious recipes I've found from some of the top recipe creators out there! Let's start with dessert and a cocktail, shall we?
Irish Cream Custard Bread Pudding by SAVOR With Jennifer – Warm bread pudding made with an Irish Cream infused custard, crumbly cinnamon streusel, and a cream cheese, Irish Cream drizzle.
Lemon Cucumber Martini with Fresh Basil by Beyond Mere Sustenance – Beautifully balanced lemon and cucumber simple syrup with gin and muddled fresh basil leaves.
Irish Nachos by Cooking with Curls – Irish Potato Nachos are a fun twist on traditional nachos, made with thinly sliced potatoes, crispy bacon, melted cheese and all of your other favorite toppings!
Corned Beef and Cabbage with Horseradish Sauce by Taste and See – With A Twist! Cooked in spices, stock, & beer, finished in the broiler, with Honey Harissa Carrots & seared roasted cabbage wedges!
Guinness Beer Bread by SAVOR with Jennifer – Guinness Beer Bread is crusty on the outside with a slightly sweet, moist and malty interior. So delicious served warm with a smear of butter!
Irish Fish Chowder by Caroline's Cooking – Irish fish chowder is a delicious mix of smoked and fresh fish in a light, gently creamy broth. Full of flavor, easy to make and perfect for lunch.
Sausage and Colcannon Bake by Nicky's Kitchen Sanctuary – Comfort food, layered on top of comfort food. With gravy. Who could ask for more!
Ultimate Reuben Dip by Foodtastic Mom – The ultimate reuben dip is baked in a skillet with toasty rye bread squares for dipping.
Healthy Apple Fennel Stuffed Pork with Irish Whiskey Sauce by Erica's Recipes – Juicy pork tenderloin stuffed with a light apple, fennel, and arugula slaw and served with a healthy Irish whiskey sauce made with yogurt.
Guinness Stout Dark Chocolate Pudding Cakes With Salted Caramel Sauce by What A Girl Eats – The name says it all!
Irish Flag Shot Cocktail by Dishes Delish – This pretty shot shows the Irish in you, even if you aren't Irish.
Corned Beef From Scratch by Garlic &Zest – Skip the packages of corned beef and make your own from scratch. You just need some space in your fridge and a little patience. Corned Beef From Scratch will ruin you for the store bought stuff.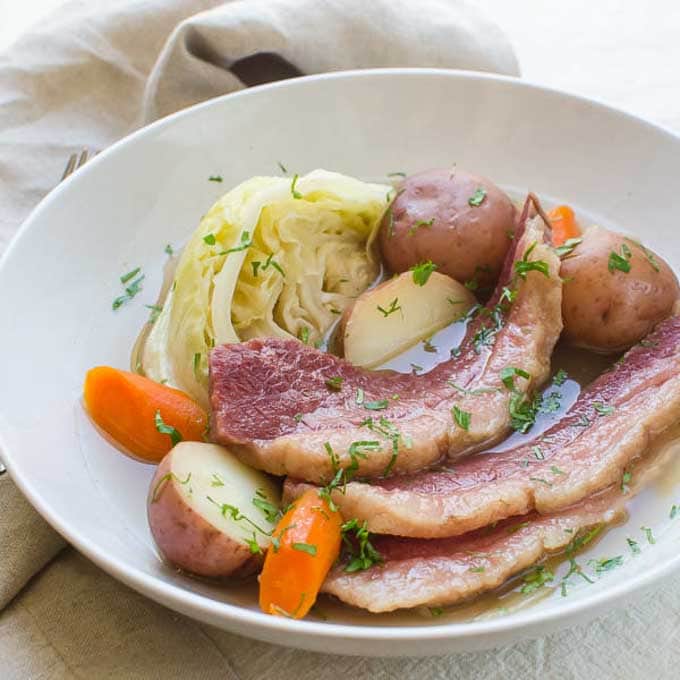 Irish Scallop Bisque by Aromatic Essence – Packed with luxurious and decadent seafood flavor.
Baileys & Guinness Cake by Liv for Cake – A rich chocolate cake infused with Guinness paired with a Baileys dark chocolate ganache and a Baileys buttercream.
Colcannon with Bacon by Salt & Lavender – You'll love these classic Irish mashed potatoes with cabbage (or kale) and the addition of crispy bacon!

Triple Whiskey Glazed Corned Beef by What A Girl Eats – This triple whiskey glazed corned beef is delicious any time of year! Prepare it on the stove or in the slow-cooker.
Beef and Guinness Stew from SAVOR with Jennifer – The smell of the beef braising in the Guinness with garlic, onions, mushrooms, and carrots until its so tender you only need a spoon to eat it will make your mouth water.
Toasted Cream Irish Coffee from Gastronom – this Irish Coffee will warm you up and the touch of toasted cream makes it wonderfully decadent.
Irish Egg Rolls with Parsley Cream Sauce by Home. Made. Interest. – Irish egg rolls take all of the ingredients for a traditional corned beef and cabbage dinner and stuff them into a crispy egg roll.
Whether you are letting your inner Irish out in celebration of St. Patrick's Day or just in celebration of all the fantastic flavors and traditions of the Irish, I hope you found something to temp your taste buds in this collection of 19 Irish Inspired Recipes.
I LOVE questions and comments. Leave me one below!
Pin now to save for later!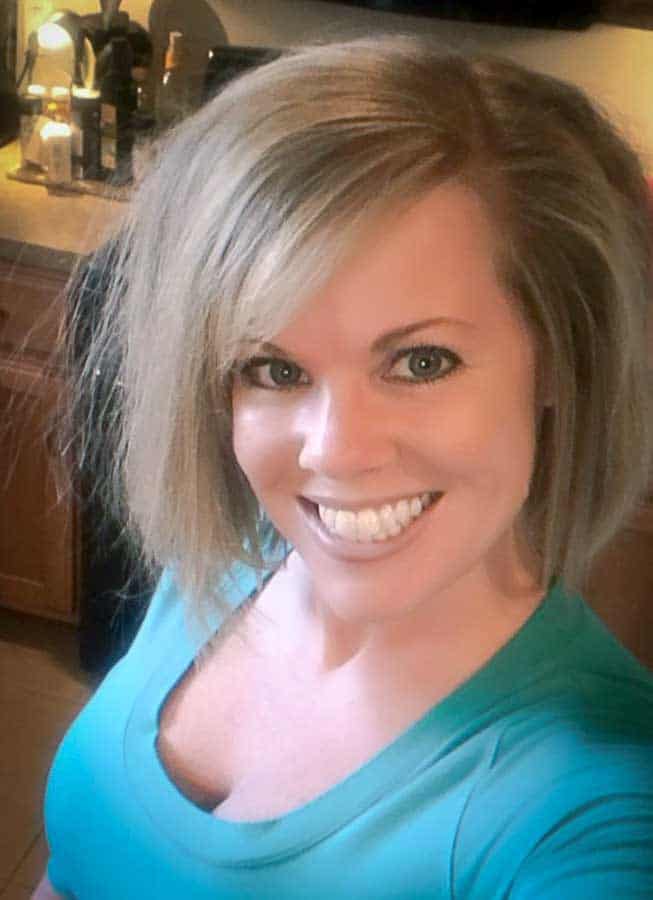 Mother, Gardener, Book Devourer, and Food Obsessor. I love being inspired with fresh, seasonal ingredients and relish every opportunity to elevate my home cooking. Join me!