From Sweet to Savory, be inspired by these 11 Unique Blood Orange Recipes from some of the top recipe creators out there!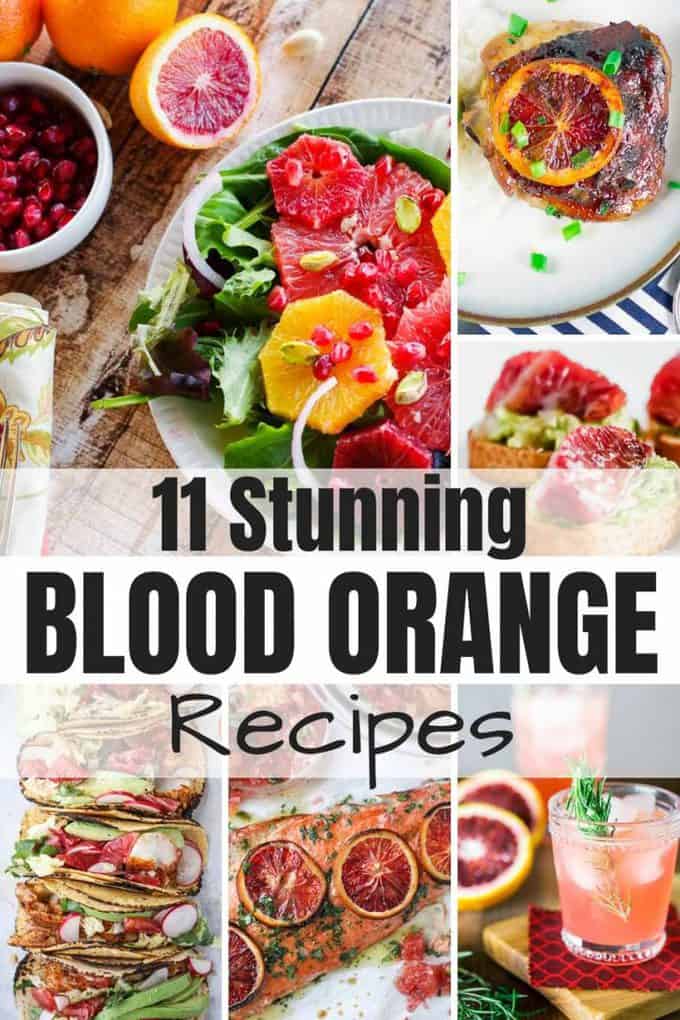 I fell in love with Blood Oranges for the first time last winter when my local grocer featured them.
My kiddos love the color and the taste, and I have to admit, I really do too. While still distinctly orange in taste, they have berry overtones that just make them so delicious.
And that color! It just begs for something special.
Last year I was inspired to create a Sticky Asian Blood Orange Chicken. It's a play on the classic Chinese takeout, orange chicken, but so much more. When blood oranges came back into season, I revamped it a little and decided to include it in a compilation of recipes featuring blood oranges guaranteed to inspire your inner chef and whet your taste buds.
I hope you are inspired by this fantastic citrus like I was with these 11 Unique Blood Orange Recipes from drinkalicious cocktails, scrumptious salads, savory entrees, to mouth-watering desserts. Enjoy!

11 Unique Blood Orange Recipes
Sticky Asian Blood Orange Chicken from Savor with Jennifer –
A fantastic twist on a classic Chinese take-out. Marinated and then basted with a sweet, spicy, sticky sauce infused with Blood Orange juice, garlic, ginger, chili, honey, and jalapeno. An explosion of flavor does not even cover it!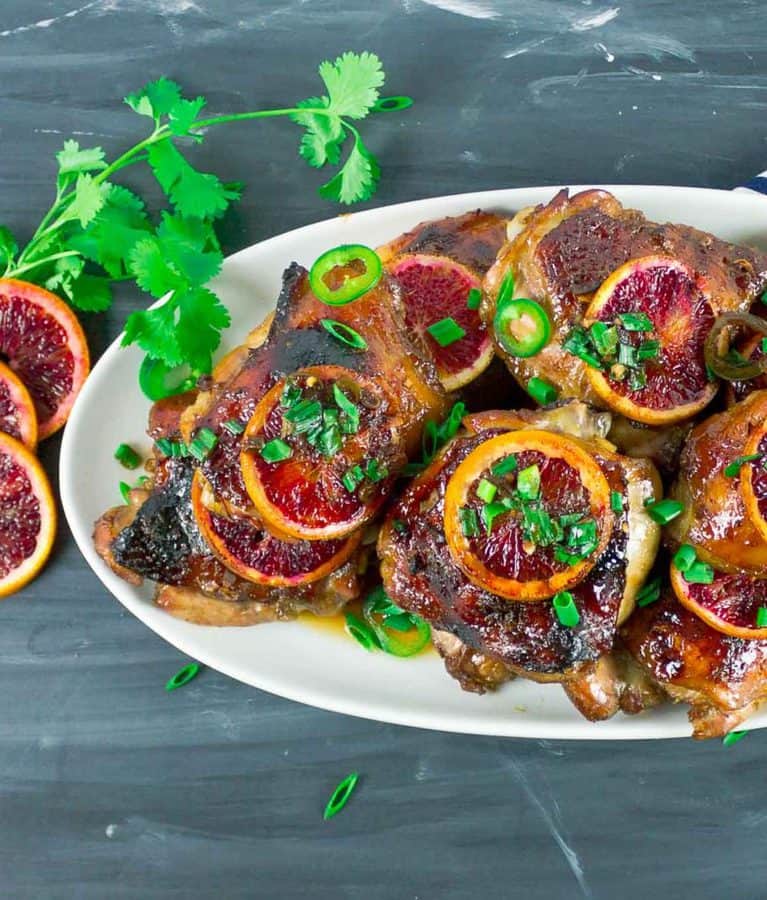 Apple Citrus Spinach Salad with Blood Orange Dressing from Peas and Crayons – This speedy spinach salad is spiked with fruit, nuts, and cheese then topped with the most delicious homemade dressing!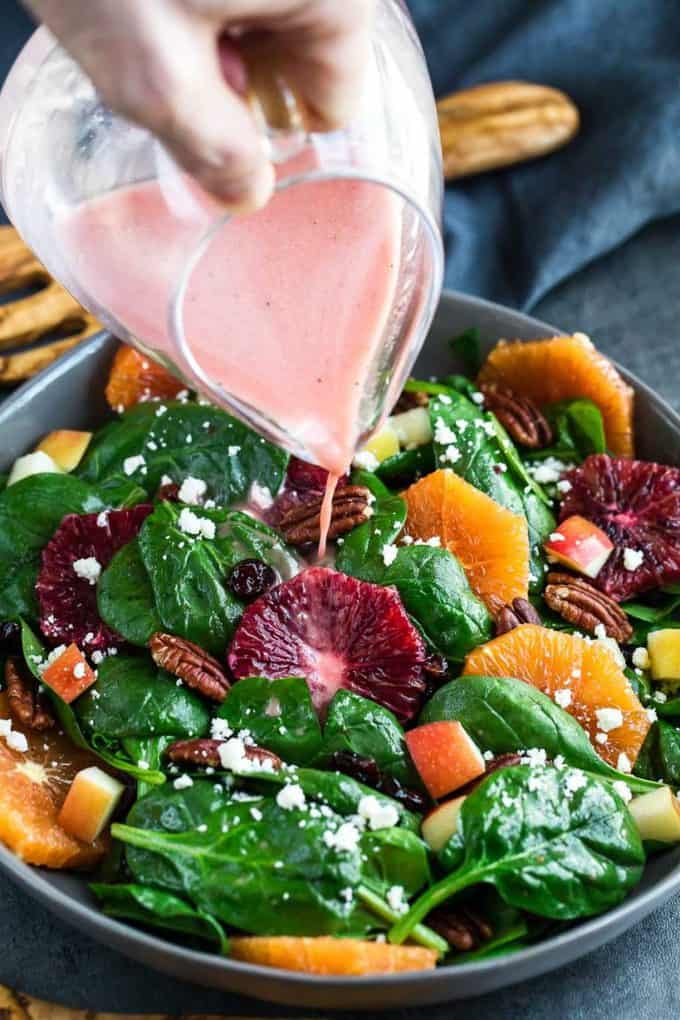 Winter Citrus Butter Salmon from How Sweet Eats – Broiled to perfection, topped with herb butter, and served with a stunning winter citrus salsa.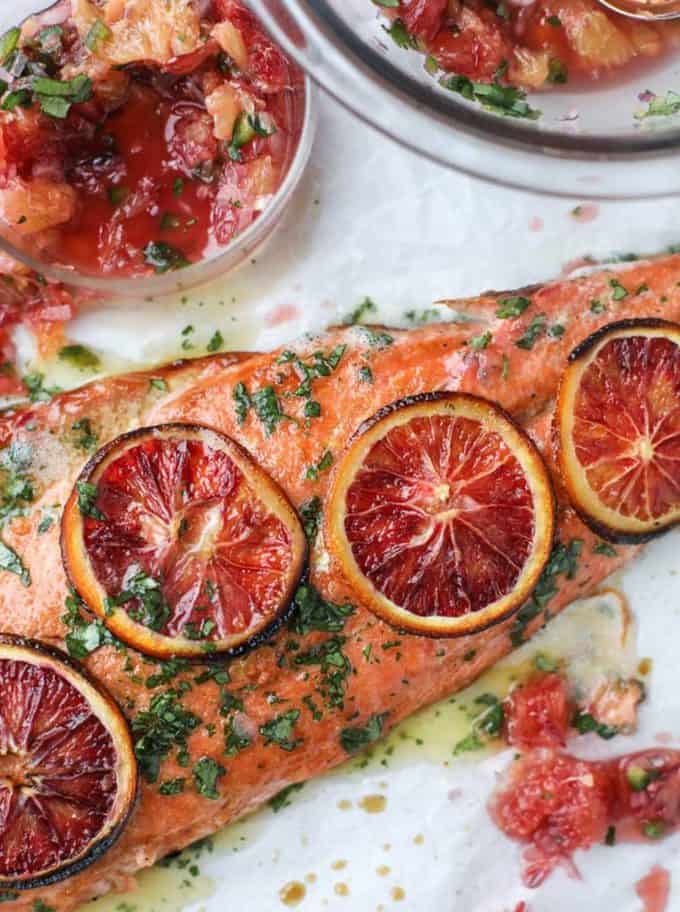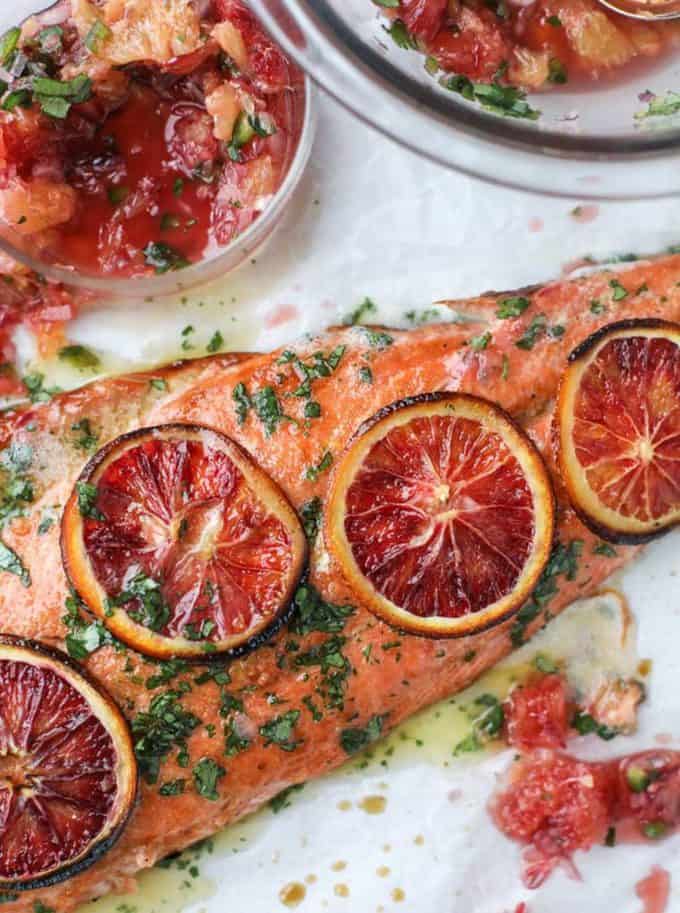 Blood Orange-Turmeric Upside Down Pound Cake Recipe from Cooking on the Weekends – This picturesque Blood Orange Cake cake will wow everyone! It's essentially a turmeric cake with stunning and delicious citrus on top! Cakes with turmeric make for an unexpected dessert that is packed with flavor and buttery goodness!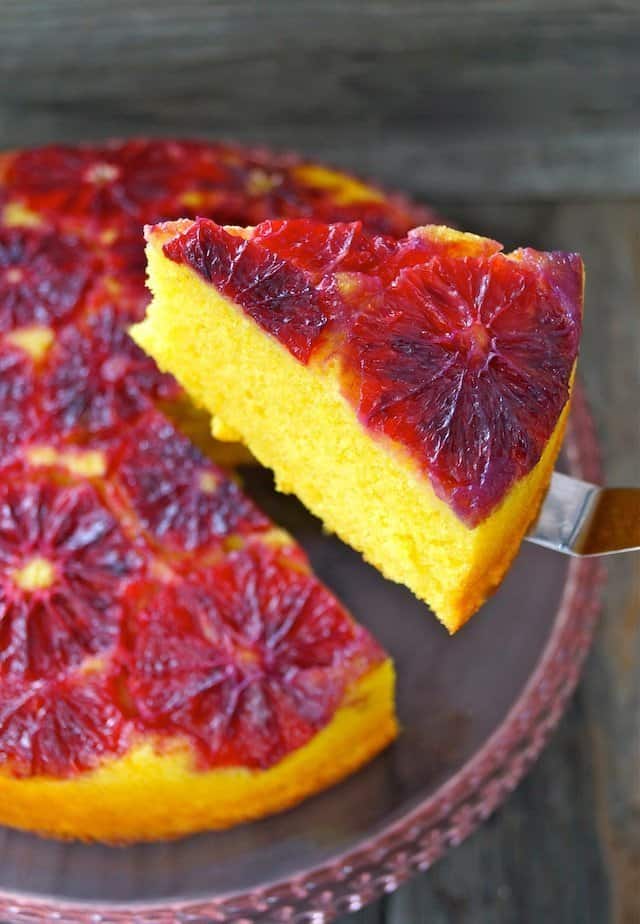 Blood Orange Margaritas from Vegan Huggs – Made with fresh-squeezed citrus, agave nectar & your favorite tequila. So simple & refreshing!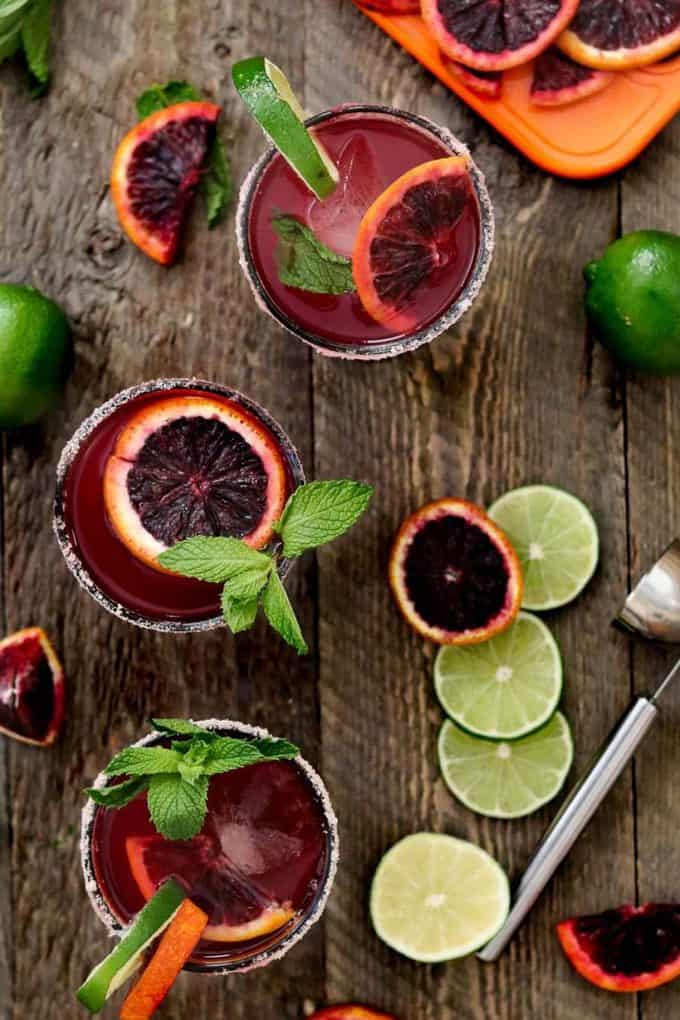 Cajun Fish Tacos with Blood Orange Slaw from How Sweet Eats – Spicy Cajun fish tacos. Juicy blood oranges. Lots of cabbage slaw and tons of lime. It's one of the freshest meals I want to eat in the winter!
Blood Orange Parfaits with Dark Chocolate Chips & Pomegranate Arils from Home and Plate – This gorgeous, low fat and healthy parfait is easy to make and perfect for breakfast or dessert!
Arugula Salad with Fennel and Blood Oranges from Cooking with Curls – This light and refreshing Arugula Salad with Fennel and Blood Oranges is perfect for a light meal or as a starter before the main course!
Blood Orange Avocado Crostini from Lively Table – Blood Orange Avocado Crostini are tiny versions of everyone's favorite snack topped with beautiful blood oranges, honey and sea salt. They're a delicious and healthy appetizer!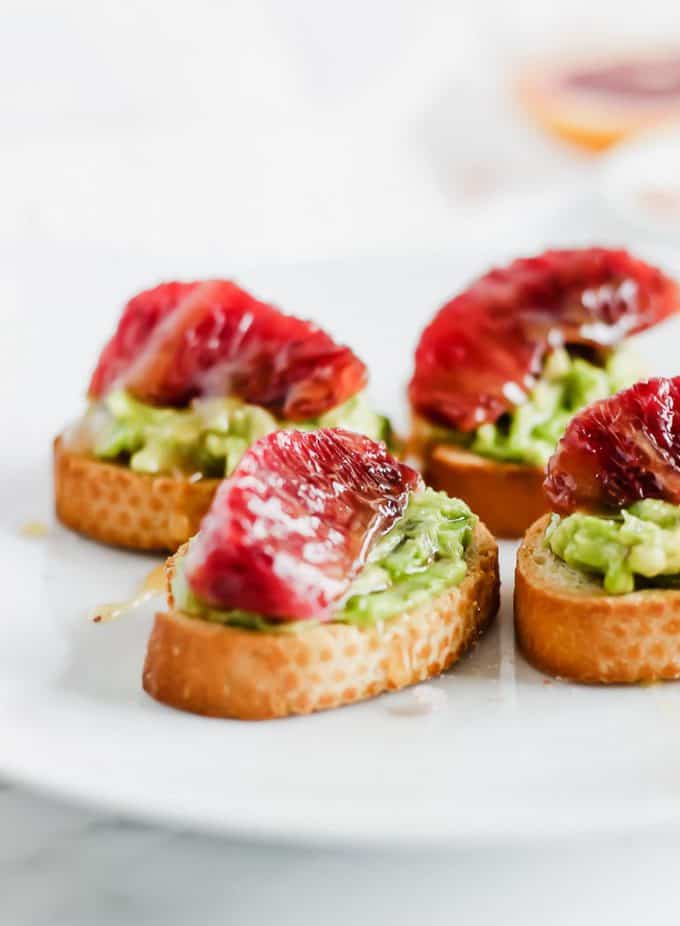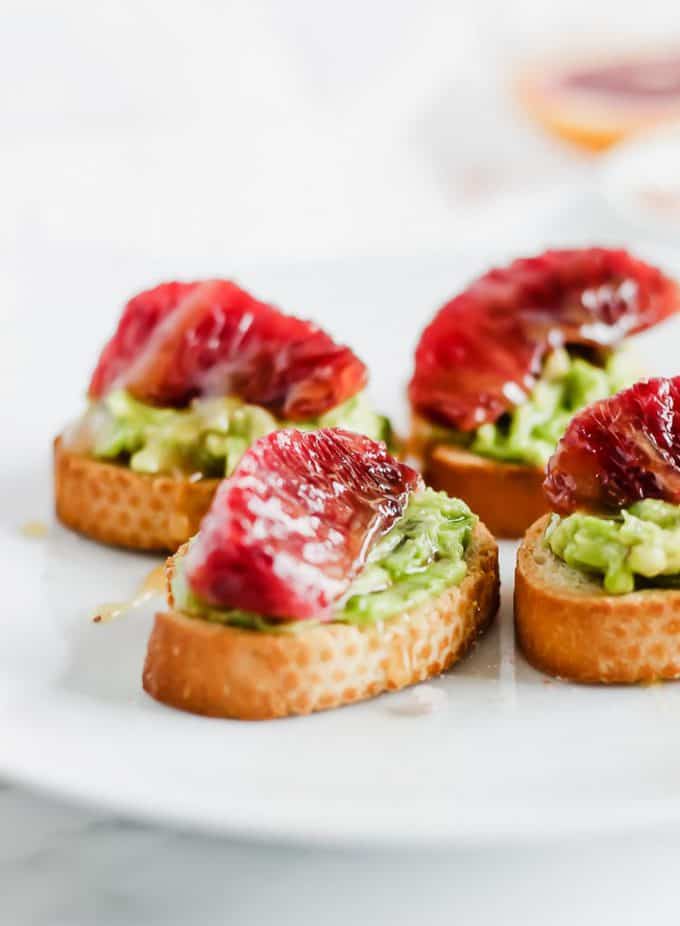 Winter Sweet Citrus Salad with Pomegranate & Pistacohios from Home and Plate – sweet citrus on a bed of greens with pistachios and pomegranate seeds. A drizzle of honey champagne vinaigrette adds the finishing touches to this winter sweet citrus salad. The sweet and salty flavor combination is outstanding.
Blood Orange-Rosemary Gin and Tonic from Burrata and Bubbles – Meet your new favorite winter cocktail. Full of freshly squeezed blood orange juice with a rosemary simple syrup, this gin and tonic is the perfect winter sipper.
Blood orange cream cheese filled chocolate glazed donuts from Running to the Kitchen – Blood orange cream cheese filled chocolate glazed donuts have all the deliciousness you expect from a filled donut but are baked instead of fried!
Were you inspired to create one of these Blood Orange recipes? If so, leave me a comment below. I'd love to hear from you!
Pin this now to save for later!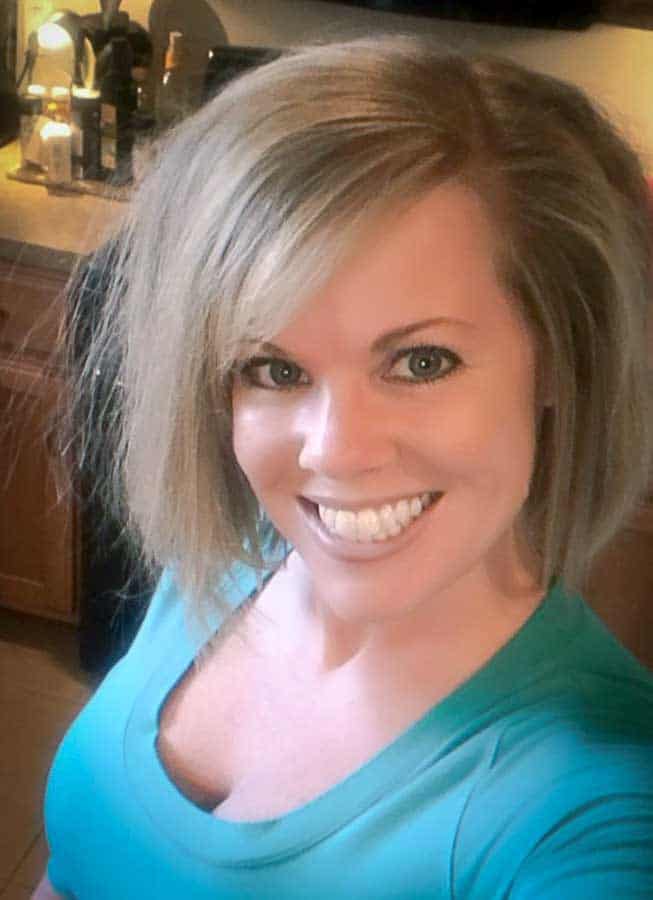 Mother, Gardener, Book Devourer, and Food Obsessor. I love being inspired with fresh, seasonal ingredients and relish every opportunity to elevate my home cooking. Join me!