Last Updated on
A little bit of summer in every bite, Fresh Peach Pie With Homemade Crust uses juice-dribbling-down-your-chin fresh peaches combined with brown sugar and spice to create the ultimate, blissful summer dessert.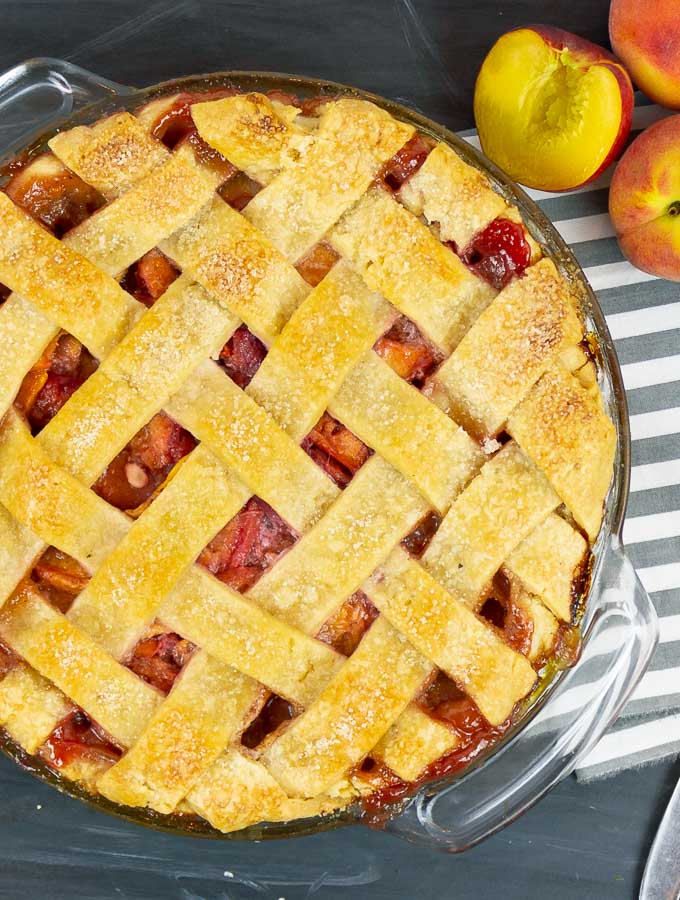 I don't know about you, but I eagerly anticipate when the first Georgia peaches come into season. Ripe, juicy, dribbling-down-your-chin yummyness.
This gorgeous Fresh Peach Pie With Homemade Crust enhances this summer treat in the most delightful way. The easy, perfectly spiced Peach Pie Filling is surrounded by a golden, flaky no-fail homemade crust and dusted with sparkles of sugar.
How to make Fresh Peach Pie With Homemade Crust
Begin by washing, removing the pit, and slicing about 8-10 peaches.
I prefer to leave the skin/peal on, but that is totally a personal preference. Very ripe peaches have more flavor and pealing those can be quite frustrating. Also, I don't think it detracts from the pie to keep the peals.
To the sliced peaches, add brown sugar, salt, cinnamon, nutmeg, flour, and lemon juice.
Gently stir this into the peaches until they are evenly coated and pour them into a crust lined pie plate. I usually use a 9″, but a 10″ will work fine, especially if you add another peach.
Now, lets talk crust.
The crust is the trickiest part to make, but if you follow some basic guidelines, it will go smoothly and easily.
My absolute favorite crust is my Grandmother's recipe. It's a bit nontraditional, but I never deviate from it because I always get the perfect, flaky crust. And I'm talking since I first started pie baking around the age of 10. When you have a crust recipe that consistently comes together well and provides the perfect flaky crust for 3 generations, you stick with it.
If homemade crust is just not your thing, choose a good quality rolled crust from the refrigerator section over the frozen varieties.
After laying the bottom crust the pie plate, trim any extra wide edges, leaving about a 1/2 " of crust to tuck.
See my Flaky Pie Crust Recipe for tips and tricks on getting the crust into the pie plate and how to lattice the top crust. It's not hard, I promise.
Dot the tops of the peaches with butter before working your lattice magic.
After the top crust is on, gently brush on a egg wash and then sprinkle with a few pinches of sugar.
What does an egg wash do?
An egg was simply consists of a beaten egg and water or milk. It makes the crust shiny and golden and helps the sugar to stick.
Can I use frozen peaches?
Absolutely! Sometimes fresh produce is not available. Defrosted (previously frozen) peaches may be substituted with no recipe changes.
Bake your pie on a foil lined cookie sheet to prevent excessive browning of the crust and to catch any bubbled up fruit juices.
Cool for at least 30 minutes before serving. Top with vanilla bean ice cream or a big ol' dollop of homemade whipped cream.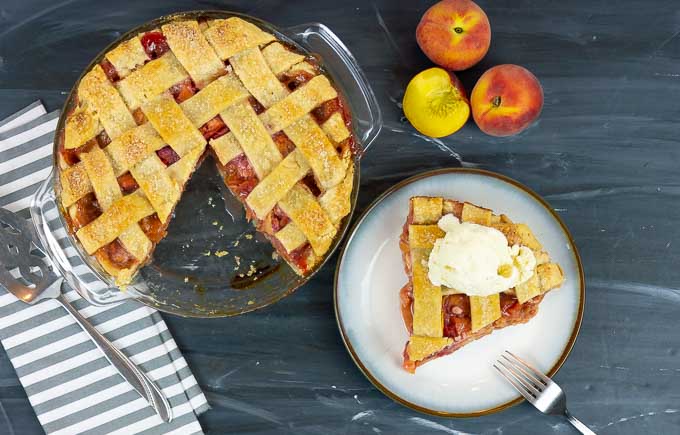 If you love Pie as much as I do, make sure to try my Grandma's Crust Recipe, Cherry Pie with Homemade Filling, and Peach Crumble Pie.
FOLLOW ME on Pinterest and make sure to Pin this pie now!
Fresh Peach Pie with Homemade Crust
A little bit of summer in every bite, Fresh Peach Pie With Homemade Crust uses juice-dribbling-down-your-chin fresh peaches combined with brown sugar and spice to create the ultimate, blissful summer dessert.


Ingredients
5

cups

peaches – fresh, sliced

3/4

cup

brown sugar

2

tablespoons

flour

1

tablespoon

lemon juice

1/2

teaspoon

salt

1/2

teaspoon

cinnamon

1/4

teaspoon

nutmeg

2

tablespoons

butter

1

recipe

Pie Crust – see recipe notes for link
Instructions
Preheat the oven to 375 degrees Fahrenheit.

Gently stir together the peaches, brown sugar, flour, lemon juice, salt, cinnamon, and nutmeg.

Pour filling into a crust lined 9-10" pie plate.

Dot the top of the pie filling with butter.

Cut a second pie crust into 10 pastry strips. Laying 5 strips vertically and 5 strips horizontically, weave into a lattice top, tucking and pinching the ends into the bottom crust.

Brush the crust with an egg wash made from 1 beaten egg and 2 tablespoons water.

Bake on a foil lined cookie sheet for approximately 60 minutes until crust is golden and the peach filling is bubbling at the edges.
Recipe Notes
Nutrition facts are approximate.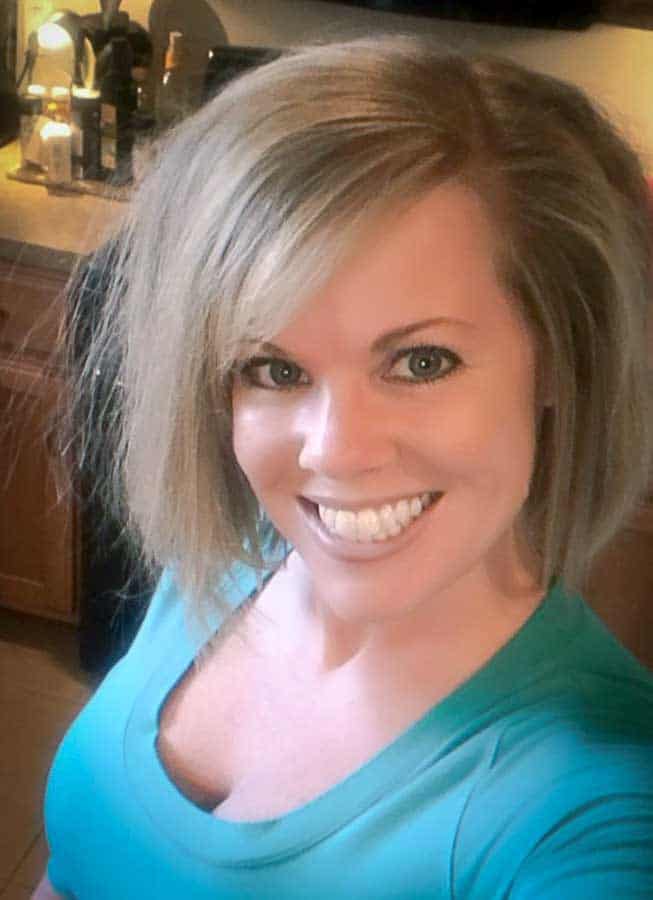 Wife, Mother, and Food Obsessor. I love being inspired with fresh, seasonal ingredients and relish every opportunity to elevate my home cooking. Join me!